Most people think of gardening and greenery whenever they hear "landscaping." Landscaping is often associated with lawns, flowers, grass, and other similar elements, but there is more to it than that. Hard materials and substances such as stones, gravel, and wooden features can be utilized to create a similar aesthetic. Hard landscaping often entails the usage of these substances mixed with soft landscaping elements to create a wonderfully beautiful mix.
EcoStar Remodeling & Construction, based in Los Angeles, incorporates hard landscaping with construction work to make beautiful fences, pavements, decks, and patios. We also offer flower bed construction, the building of seating spaces, water fountains, and garden light installation. Our professionals dedicate their expertise to providing you with the best customer service in addition to beautiful garden landscapes, relaxing deck spaces, and well-constructed pavements.
Benefits of Hard Landscaping Elements for Your Home
Hard landscaping is easy to install and requires little to no maintenance. Some of the different types of and benefits of hard landscaping options are listed below:
Paving & Patios
Patios are available in a range of different landscaping materials. Some of the most popular materials used for patios are granite, porcelain, and concrete. Concrete is one of the most affordable materials for patios, while granite is a luxurious yet beautiful choice for your wonderfully constructed patios. Patios can be custom designed to be inviting and bright, with a range of finishes available. Slabs of different materials are available in various shapes, textures, and sizes to help you create a wonderfully beautiful finish for you.
Patios and paving are considered to be much more beneficial than lawns. They are a better surface for barbeques and do not need upkeep services like mowing and tending that cost extra money and time. Patios can be decorated easily with comfortable and fitting furniture that can be stored away once winter comes.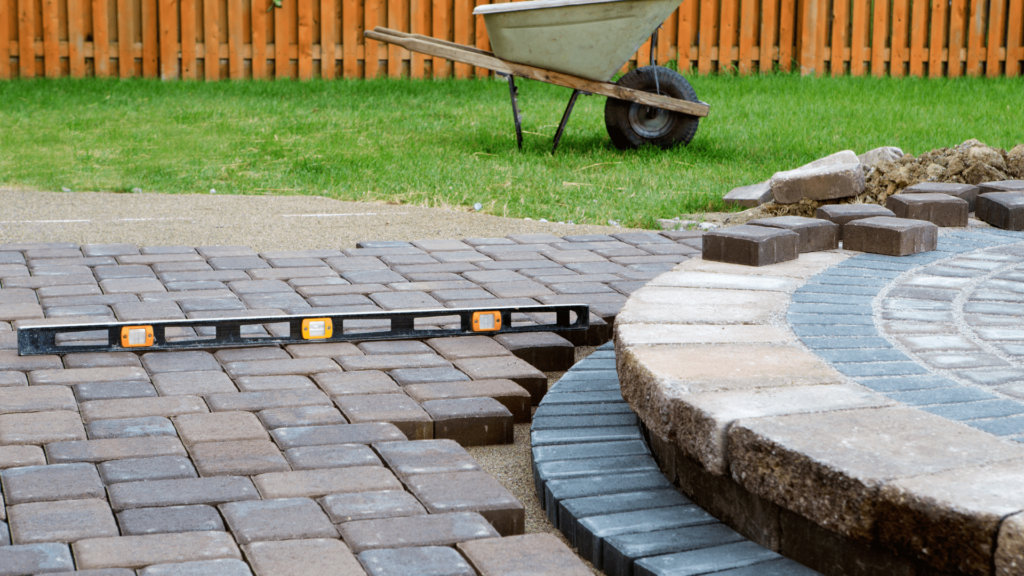 Woodwork & Fencing
People who have a hobby of gardening use bushes, shrubs, and other plants to beautify their gardens. While these landscaping elements may look beautiful, they require extra maintenance, which costs time and money. Timberwork and fences offer an attractive and sophisticated finish to your homes as well. With a wide variety of finishes and timber available in the market, you can choose the best fencing option available for an attractive finish. Pergolas and other woodworks can also be considered for a more beautiful addition. Decks are a great hard landscaping addition if you would like to spend quality time with your friends and family under the open sky.
Gravel & Pebbles
Gravel and pebbles are a great alternative to turf and can be utilized to border other garden features or a garden path. The benefit pebbles and gravel lend is that they are the most versatile covering available in the market. They can be installed in a setting easily and require minimal effort and upkeep. Professional landscapers from EcoStar Remodeling & Construction can work with pebbles and gravel with other soft landscaping materials or mortar to create a visually striking view for your home's exterior design.
Call EcoStar Remodeling & Construction Today!
Hard landscaping is a difficult job to take on for an inexperienced individual, one that should be merged with suitable soft landscaping elements for a beautiful final finish. EcoStar Remodeling & Construction Los Angeles has professional remodeling and landscaping experts who can create visually appealing exterior components for your home. We specialize in building decks, patios, pavements, water fountains, fences, and much more. Contact our professionals today at (818) 918-2210 to discuss your landscaping needs and get the best landscaping services for your home in Los Angeles.