A good roof is essential to a stable home. Many homeowners put off installing a new roof because of costs and time requirements, but there are many benefits to roof replacement. A new roof increases the resale value of a home, improves energy efficiency, increases safety, and enhances curb appeal. Considering all these benefits, who wouldn't want a new roof? We promise it will be worth the money and temporary inconvenience. Often roofs don't take more than one day to install, so you won't have to deal with construction for long. So what are you waiting for? It's time for a new roof. But before you contact a contractor, you should know what type of roof you want. Here are the six best roofing materials: 
1. Clay 
Clay tiles are beautiful, coming in rich reds, oranges, and browns. This material is long-lasting and durable in the right climates, with a lifespan of up to 100 years. Because clay tiles are high-quality, they are more expensive than other options. You'll pay between $10 to $30 per square foot. You should also be aware clay doesn't look good with every homestyle. This type of roofing material works well with Spanish and Mediterranean-style homes. 
2. Concrete
Concrete is another excellent roofing material. It has many of the same advantages as clay: It is attractive and durable, lasting 50 years or more with proper care. Unlike clay, you have more style choices with concrete. You can get this material in a wide variety of colors, from sandy beige tones to cool river greens. Concrete does well in windy climates because of its weight and strength. You can expect to pay between $10 to $15 per square foot for these tiles. 
3. Metal 
Metal is one of the best types of roofing materials because of its eco-friendliness and durability. You can get a metal roof in two different styles. There is seamed metal roofing, which is made up of interlocking panels to prevent moisture retention. You'll pay between $6 to $12  per square foot for this style of roofing. Seamed metal roofs typically last 20 to 30 years, though they can have a lifespan of up to 75 years with proper care.
The other style of metal roof you can get is made up of shakes or shingles. The shakes or shingles are made of metal and covered in a special coating to enhance durability. You have almost limitless design options with this roofing choice, as metal can mimic many other materials like wood or asphalt. Expect to pay $7 to $10 per square foot. Your roof should last you between 30 and 50 years.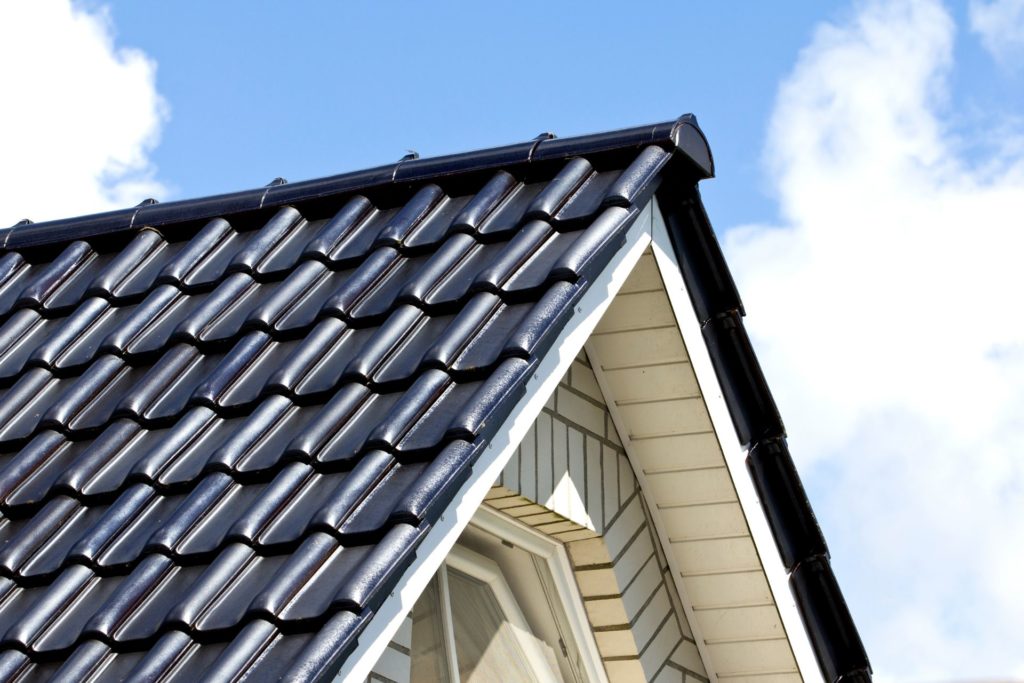 4. Slate 
Slate is a gorgeous and long-lasting roofing material. You can find this natural stone in many hues, including purple, red, and green. Budget $9 to $12 per square foot with slate, not including installation costs. And don't be intimidated by the price because a slate roof should last your lifetime and beyond. Some slate roofs last up to 200 years! As long as you can find a qualified contractor to install it for you, you shouldn't need a roof for your new home again. 
5. Asphalt Composite 
If you're low on funds, asphalt composite shingles could be the right choice for you. Because of their affordability, asphalt composite shingles are the top choice among American homeowners. They cost between $1.50 to $4.50 per square foot. These shingles usually come with a warranty that spans their lifetime, so you shouldn't have to pay extra for repairs. An asphalt roof lasts between 12 and 30 years. 
6. Wood
Those looking for a classic, elegant roof will love wood shingles or shakes. Both are commonly found on luxury properties because of their beautiful appearance. However, you should be aware that wood is not practical for many homeowners. This material is not moisture or fire-resistant, so you need to live in a climate where these vulnerabilities won't become a problem. Expect to pay between $4.50 to $14 per square foot for a wood roof. In the right climate, your investment could last up to 60 years. In moist climates, the life expectancy drops down to 20 to 30 years. 
We'll Help You Choose the Best Roofing Material!
Are you ready to get your new roof? Our team of experts is ready to assist you. The EcoStar team loves helping our neighbors in Sherman Oaks, California, and surrounding areas. We're available every day of the week, except Saturday, and we guarantee the satisfaction of our clients. You can expect efficiency, quality, and professionalism with every project. Contact us today for assistance!