There's something undeniably enjoyable about cooking and having a meal outdoors, but oftentimes we don't have the space to prepare the meal, cook it, and eat it all outdoors. Most homes are only complete with a deck or patio, meaning if any outdoor cooking wants to be done, homeowners need to add on to their backyards to create that space. Creating an outdoor kitchen is the best way to bring the best parts of the indoors outdoors.
Creating an Outdoor Kitchen
When we say "outdoor kitchen," we don't mean the typical propane or charcoal grill that most homeowners are accustomed to. We mean something more full-scale, like built-in grills, under-counter refrigerators, and sinks, complete with counter space to prepare meals without having to go inside. Preparing meals at get-togethers and parties indoors is fine, but being able to do it all outdoors in the bright warm months is so much better. Read on to learn more about creating your own outdoor kitchen.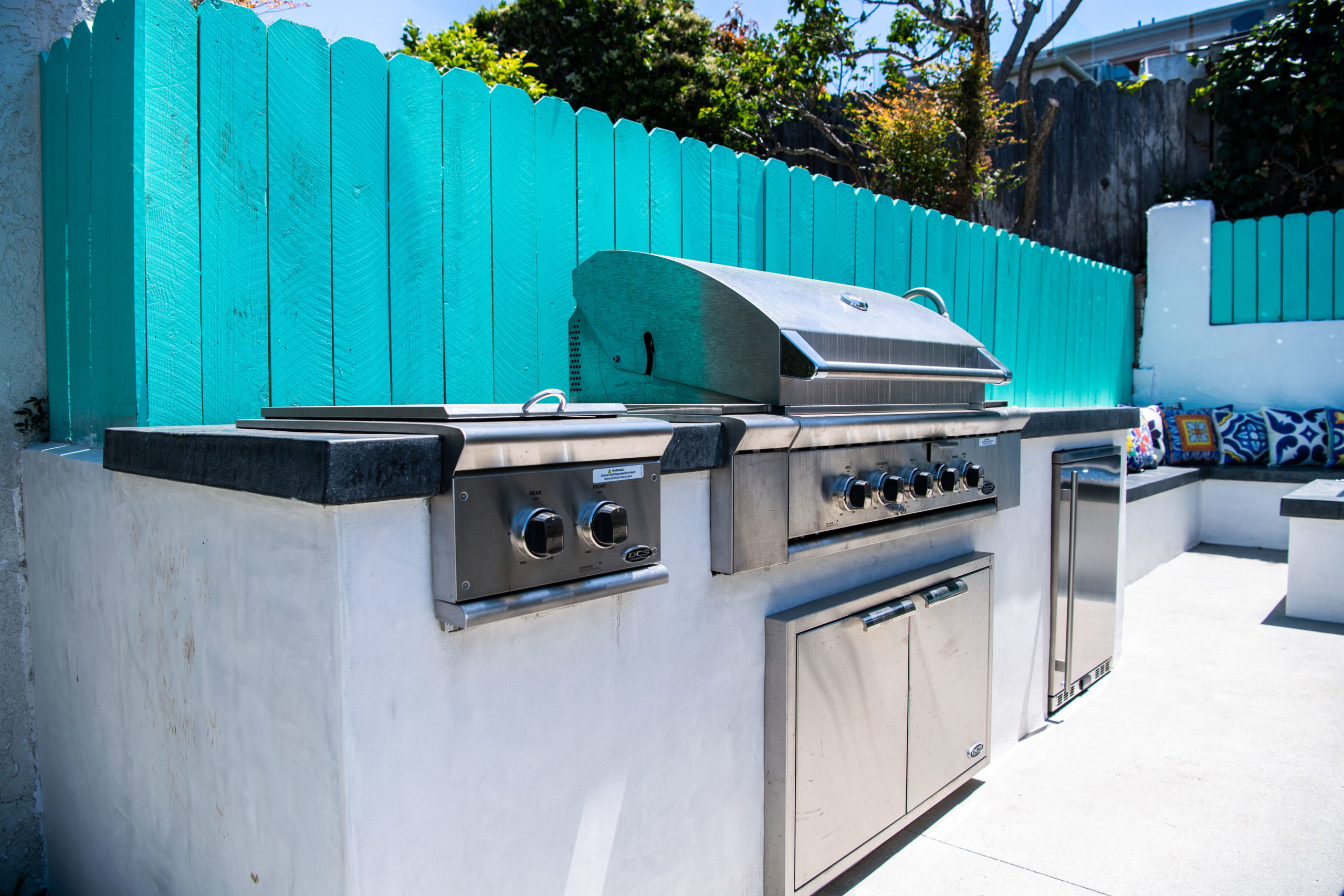 Do Some Research
To create the best outdoor kitchen for you, you must consider your lifestyle, budget, and available space. The most basic outdoor kitchen includes a freestanding grill, but if you're looking for something more, you need to consider more than just your style. Outdoor kitchens allow a great deal of flexibility for homeowners to pick and choose what materials they like best and what appliances would best suit their needs. 
To find out what might work best for you, take a look at home improvement blogs like Houzz and The Spruce for inspiration and tips, or fall back on social media outlets like Pinterest and Instagram for inspiration. Contact a contractor to help you design and plan your perfect outdoor kitchen. Contractors are happy to work with you to create interesting and functional spaces that you'll love. They can help you decide the best layout and answer questions like if a single counter, island, U-shape, or L-shape kitchen would work best. 
Settle on a Budget
Now that you know what elements you want to be implemented into your new outdoor kitchen, it's time to decide on a budget to accommodate your needs. According to Remodelista, a simple outdoor kitchen space with a freestanding grill, under-counter refrigerator, sink, and faucet could cost about $4,000. A premium grill, sink and faucet, refrigerator, ice maker, ventilation, plus any other add-ons could cost $10,000 or more. Other costs include hiring a contractor to complete the work, electrical and plumbing, and building permit costs. 
Consider Your Climate
Choosing the correct materials and appliances based on the weather in your area is crucial. If you live in a warm and sunny environment, it's important to consider what the sun can do to certain appliances and materials. According to Appliances Connection, a group of designers confirmed that using stainless steel, teak, or cypress cabinetry is best. Additionally, Dekton or concrete countertops were also recommended. If applicable, anything with a waterline should be winterized for colder months. Furthermore, consider the sun's direction with your outdoor kitchen and seating, as no one wants to worry about the sun being in their face at optimal cookout times during the day.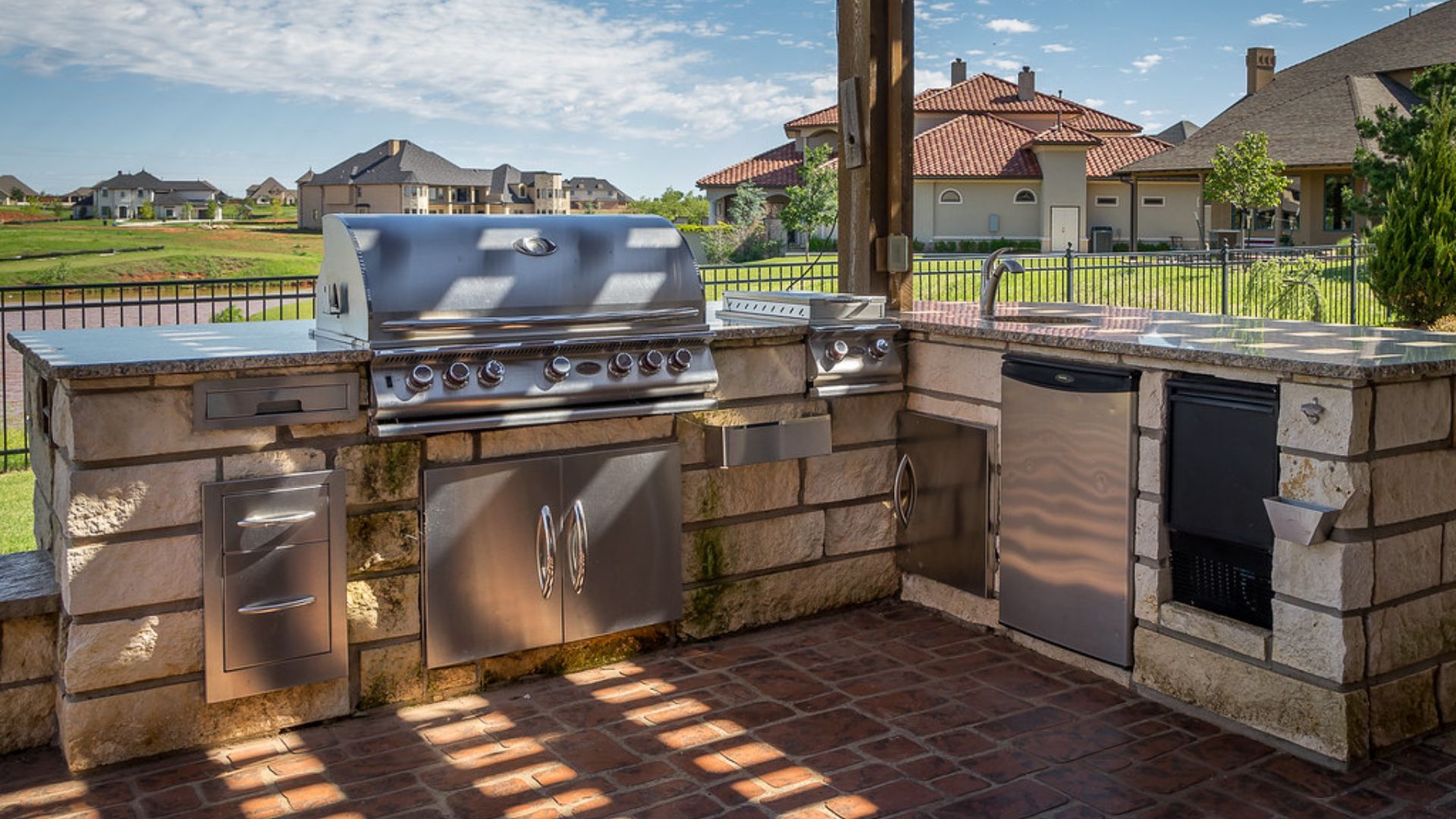 Commit to Maintenance
Just like your indoor kitchen, your outdoor kitchen will require some maintenance. Outdoor kitchens have the disadvantage of being open to the elements, meaning cleaning is even more necessary. In the colder months, the kitchen will need to be covered up. In the warmer months, the sun can ruin some materials. Consider the general upkeep of your outdoor kitchen to ensure you can keep up with it. 
EcoStar Remodeling & Construction
There's no better time to design and install a new outdoor kitchen, just like there's no better team for the job than EcoStar Remodeling & Construction. When you work with us, our team ensures that you're not left clueless at any point during your landscaping journey. Whether you already have an idea you wish to bring to life or are looking for fresh ideas to liven up the outdoors, our professional landscapers are there every step. We work within your budget, bringing you the best possible solutions to give your outdoors a makeover. Call us or connect with us on the web for a free quote. Let's create the perfect outdoor kitchen for your needs.