The kitchen is the centerpiece of our home. It's where we create the most memories and gather for essential meals, celebrations, and get-togethers. It'd be better if we liked using and moving around our kitchens. The best way to rectify this issue is to invest in kitchen remodeling. 
At EcoStar Remodeling & Construction, we know all about remodeling. Kitchen remodeling is one of our specialties. Working with us means you're not alone in the decision-making process. Our team will answer your queries and develop the best solutions for your needs under a budget. You won't need to shop for materials or tools. With our kitchen remodeling services, you can expect the process to be as stress-free and trustworthy as possible.
But, what is the kitchen remodeling process? Let's go over the kitchen remodeling timeline when you choose EcoStar Remodeling & Construction.
The Kitchen Remodeling Timeline
Step 1: Set a Budget
The kitchen can quickly become a pricey project. The price can climb once you start factoring in appliances, fixtures, and custom features. Before you begin your remodeling project, limit yourself to a budget. Know how much money you have and want to spend on your new kitchen. 
Of course, figuring out your budget is figuring out if the money you have set aside is enough to cover the cost of various elements, such as a nice stainless steel fridge or gorgeous marble countertops. It's important to do your research to determine the estimated price of the essential items you want in your new kitchen. Keep in mind that when you choose a company like EcoStar Remodeling & Construction, we can get discounted prices from various manufacturers, so the price you see online for a new fridge may not be the actual price. 
The average cost of a full-fledged kitchen remodeling project–such as custom cabinetry, new hardwood flooring, and high-end appliances–is about $30,000. According to HomeAdvisor, homeowners should spend only about 5%-15% of their home's value.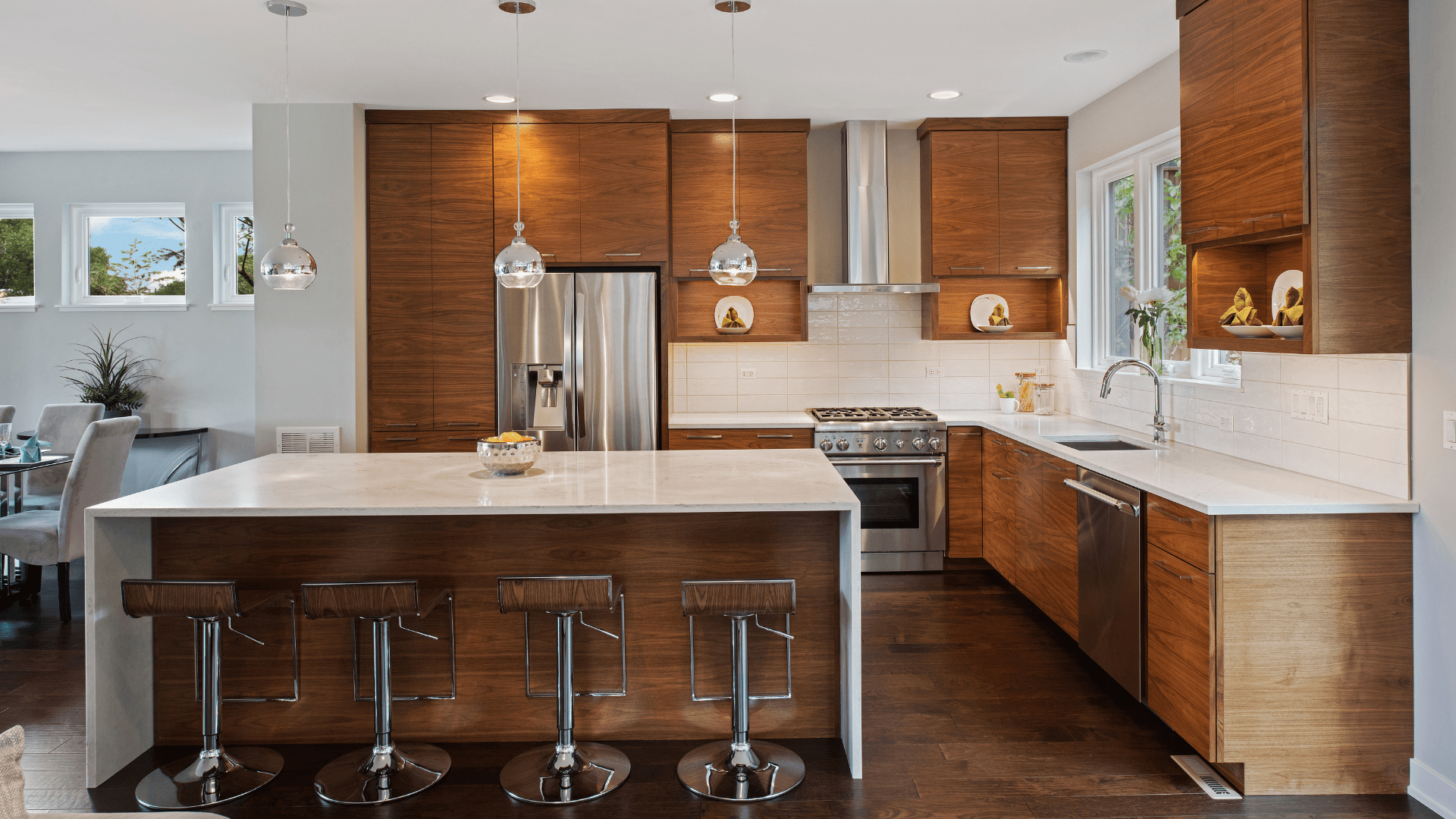 Step 2: Planning and Finalizing the Design
This is the fun part. Choosing between fun paint colors, different textures, and brand-new hardware can be overwhelming. Still, most homeowners find this process the most enjoyable because it means the project is finally underway! At EcoStar Remodeling & Construction, we work closely with our clients to design their dream kitchen. We render 2D and 3D models to ensure the design is to your specifications. 
There are many aspects of your new kitchen you need to decide whether it will change or stay the same. Some people choose to completely change their existing kitchen, which could prolong the kitchen remodeling timeline. Others decide to change their flooring, install new countertops, and put up a backsplash. If you need more space in your kitchen, it will likely involve rewiring and replumbing your appliances as walls may need to be taken down, and appliances will need to be relocated. Keep this in mind, as it could prolong your kitchen remodeling timeline.  
Step 3: Gutting the Kitchen and Beginning the Remodel
This step is crucial as many safety concerns are taken into account. Before we begin any demoing, we turn off the water, gas, and electricity and remove all appliances. We protect your floors and protect any other aspects of your kitchen you are keeping. We ask our clients to remove any valuables such as fine china or glassware, so it doesn't get damaged in the remodeling process. Walls will be taken down if we're remodeling the kitchen's layout, and wires and plumbing will be relocated.
From there, we will begin the installation process of the new features of your kitchen. We will install new cabinetry and countertops, plug in appliances, and hammer in new floors. This process only becomes lengthy when we need to order or have certain things made.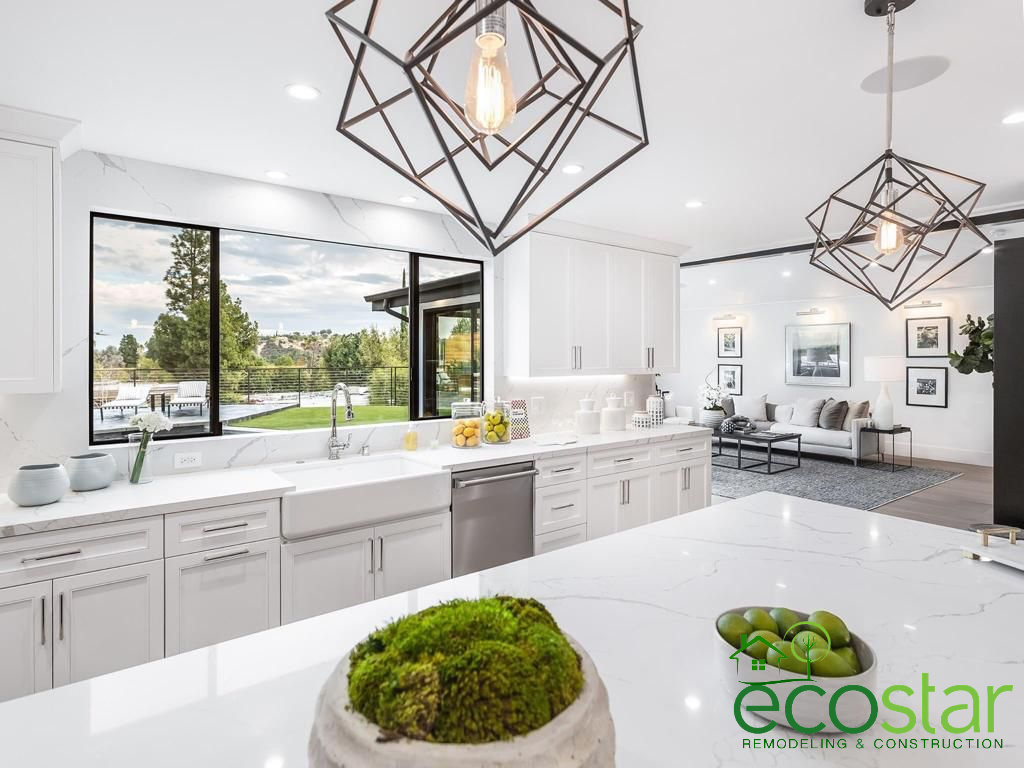 Step 4: The Final Product
When the job is done and the clean-up has been completed, we make sure there are no other aspects of your kitchen that need to be changed or fixed. Once you are completely satisfied with the job, we will leave you to enjoy your beautiful new kitchen. 
A complete kitchen remodeling timeline is typically three to five months when it's all said and done. More minor remodels, such as new cabinets, countertops, and a backsplash, can take a few weeks. 
Free Estimates
Now that you know our kitchen remodeling timeline, consider EcoStar Remodeling & Construction for your next home project. We offer free estimates for all our services, including kitchen and bathroom remodeling for home and commercial remodeling projects. We also cover other tasks, such as roofing, landscaping, windows, and driveway installation. Call us now at (818) 918-2210! Join our growing family now and witness an efficient and effective change in your lifestyle.