The same way a great bathroom in a restaurant or hotel can make you feel good, a fantastic bathroom in your home is bound to get lovely compliments from your guests. A beautiful bathroom can make you feel comfortable and calm and even improve your mood. This is the reason why bathroom remodeling is so popular for new homes. Homeowners want to add a personal touch and feel comfortable in their private spaces.
If you are looking for bathroom remodeling for your home, you must consider the financial and aesthetical factors involved. Successful bathroom renovations require extra planning, creativity, and some forethought. Bathroom renovations are not an easy or inexpensive task. It requires a significant investment, so you should plan ahead for the project to stay ahead. We have compiled a list of tips from our professional remodeling team that will help you plan perfectly for your bathroom remodeling project:
Tips for a Great Bathroom Remodeling
Build a Budget
The first step in taking on a home improvement project is building a viable and reasonable budget. To ensure that you do not end up spending more than intended out of your pocket, you should allot a set spend amount to materials and potential costs. This will help you map out everything you want at a reasonable price. If you are going to invest a significant amount in building your new bathroom, you should think about: how much exactly you can afford to spend, what parts of the new bathroom are essential, and would you be reselling your home in a few years?
Choose the Type of Bathroom
The second important step in remodeling your bathroom is choosing which changes you would like to make. Some homeowners want to remodel their bathroom to upgrade from a shower to a bathtub. Depending on your needs or preferences, your contractor will let you know which option would suit you best. You can choose between a functional half bath, a luxurious complete bathroom, or the standard bathroom for your bathroom renovation.
Think about the Layout
Another thing to consider while remodeling your bathroom is to pick out the little things you would like to change or replace. Maybe your old bathroom was poorly thought-out and needed to be renovated for functionality or ease. In that case, you may need to shift the toilet a few or install a new usable bathtub. Our professionals can help you achieve your goals for added space or functionality in your bathrooms.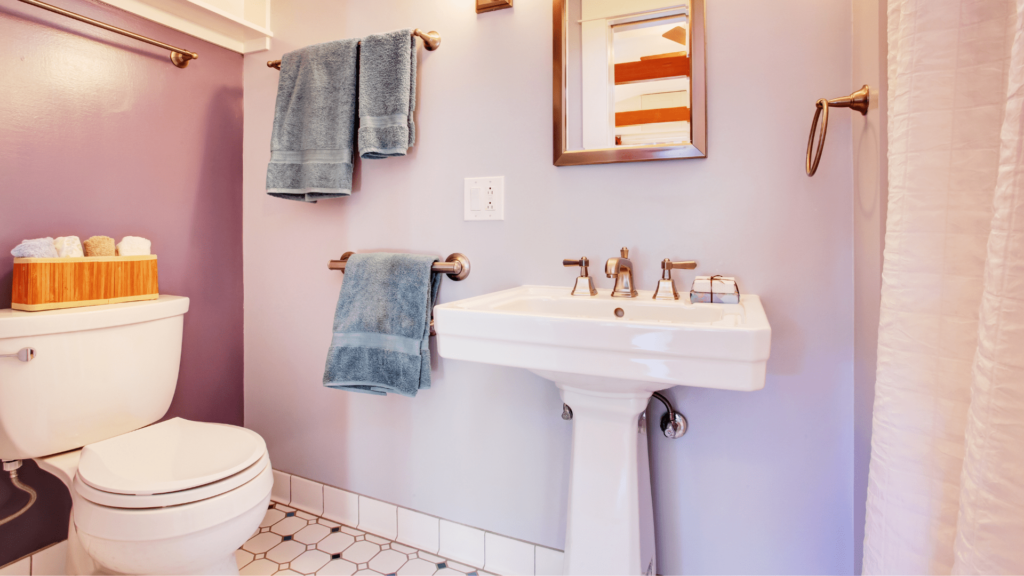 Select the Perfect Lighting
Nothing ruins the atmosphere, look, and utility of space than bad lighting. If you want to ensure your bathroom feels comfortable and spacy, you must put lighting as one of your top priorities. To make your bathroom feel airier and brighter, it is recommended to install skylights or windows in your bathroom. Natural lighting in your bathroom will allow you to take full advantage of the bright sunlight and add to a spectacular aesthetic. Artificial lighting is a must, and many experts recommend layering the lighting in your bathroom. Ambient lighting can improve your mood, and adequate lighting near bathtubs is perfect for individuals who like to read while relaxing.
Plan for Essential Ventilation
Ventilation is an essential factor that most homeowners overlook. All bathrooms require proper ventilation to avoid mold and keep you and your family in perfect health. Exhaust fans, windows, and window vents are common sources of ventilation. Most contractors recommend externally exhausting fans that run on timers. These appliances help keep your bathrooms free of excess humidity and ensure efficient airflow.
Call for Expert Bathroom Remodeling Today!
EcoStar Remodeling & Construction is a group of expert remodeling professionals dedicated to providing the best remodeling services in Los Angeles. Contact us today at (800) 764-7130 to request a consultation or visit our bathroom remodeling page to learn more details about our service and process.