Los Angeles Remodeling
EcoStar Remodeling & Construction is a comprehensive home remodeling company. We offer a wide range of remodeling services for your entire home. One of our most common services includes Los Angeles kitchen remodeling. Kitchens are the most popular room to remodel because they are the most crucial room to homebuyers. With such a big focus on this room, yours must meet expectations, not only potential buyers but yours too! Of course, you want to feel comfortable with your own kitchen. That is why our team is here to assist you with your Los Angeles kitchen remodeling project. 
About Los Angeles
Also known as The City of Angels, Los Angeles has always been one of the most beautiful places to call home. People who don't want to deal with the cold that is characteristic of the East Coast might want to consider living in LA.
Los Angeles has 300 days of sun a year, but if that gets too hot to handle, you can always seek shelter in the mountains or cool off in the sea. Many people like living in diverse places that offer more exposure to understand and learn about different cultures. Well, LA is home to over 140 nationalities and over 100 different languages.
With 106 colleges within a 50-mile radius, Los Angeles is an excellent option for anyone who wants to pursue their education there. Apart from that, sports enthusiasts would love the sports scene in the city. LA is home to some of the most prominent athletes and teams in basketball and football.
However, with real estate prices rising after the pandemic, you might consider a Los Angeles kitchen remodeling job to modernize your home.
Our Los Angeles Kitchen Remodeling Process
We try to make things as simple as possible to give you a no-frills solution to your problems. Here is what you should do for a Los Angeles kitchen remodeling project.
Book an Appointment with Us
To get started, you should book an appointment with our team. You can call us or fill out the form on our contact page. A representative from our team will find the best time for you and your schedule.
Inspection
After you schedule an appointment, we will come to your home to inspect the site. We assess your home for existing damage and any flaws in the original construction that may be a hindrance or hazard during the project.
Planning
The next step in your Los Angeles kitchen remodeling project is planning what we should do to make your dream kitchen a reality.
We love working with creative individuals, so tell us your vision, and we will try our best to execute it. You have multiple colors and material options to choose from when you work with us, giving you the liberty to make your kitchen unique.
During a Los Angeles kitchen remodeling project, our design team works closely with you to understand your needs. If we can improve on your plan in any way, we will let you know. However, the final decision is in your hands.
Executing
After we have finalized everything with you, we start on the project. Our philosophy is to do the job as quickly as possible without getting in your way. We will run things by you from time to time. However, our objective will be to deliver the results while being as unintrusive as possible.
By the end of the project, you will have a new kitchen that complements the fast-paced lifestyle in LA. Our workers leave no stone unturned and go the extra mile to ensure you get what you pay for.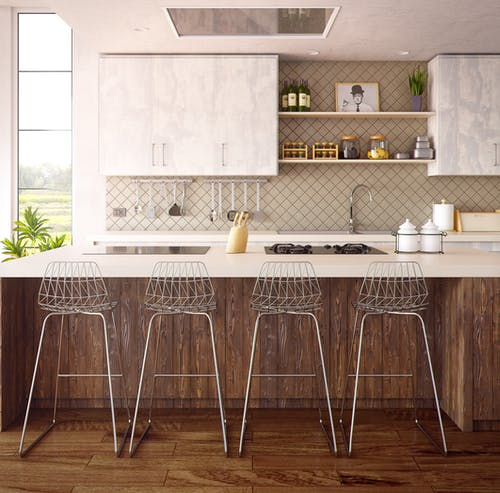 Benefits of a Los Angeles Kitchen Remodeling Project
Here are some of the benefits you can look forward to enjoying after a kitchen remodeling project:
better lighting
more power and water-efficient appliances and fixtures
modern look
increase in property value
better workflow
lesser chances of injuries
Additionally, you don't have to worry about leaks or appliances breaking down any time soon because we ensure that we cover everything.
Los Angeles Kitchen Remodeling Contractors
Start your kitchen remodeling journey today by giving our team a call. You can reach us for a free quote by calling (818) 918-2210 or filling out the form on the contact page. Visit our kitchen remodeling services page to learn more about what our experienced contractors are capable of completing. 
Do You Offer Free Quotes?
Yes, we do. We are happy to give you a free quote for your project. You can expect a response within 48 hours!
Will You Help Me Attain Permits For My Whole Home Remodeling Project?
We will absolutely help you attain permits for your project. You can rely on us to work with the local government to ensure we have the green light to move forward with our plans.
How Much Does Whole Home Remodeling Cost?
Unfortunately, we can't give you a specific number without knowing more about your project. Every whole home remodeling project varies in price depending on factors such as the materials you choose, how extensive your project is, the size of your home, and many other factors.