Lynwood Bathroom Remodeling
Make Showers Pleasant and Comfortable
Is your bathroom a poor representation of your design and style preferences? An old bathroom could be unsafe for you and your guests due to mold, mildew, and algae build-up. You can spruce up your home with Lynwood bathroom remodeling. Contact EcoStar Remodeling & Construction – Bathroom Remodeling Contractors Lynwood now to make your dream a reality with professional remodeling services.
Lynwood Bathroom Remodeling
We guarantee all our customers smooth and efficient Lynwood bathroom remodeling. We cover both small and large projects. So whether you want to replace the shower or rebuild the whole bathroom from scratch, we can help you throughout the process.
We also present our customers with Lynwood bathroom remodeling ideas that best fit their preferences, budget, and schedule. Here's what the whole process looks like:
Picking a design and setting a budget
Removing all fixtures and demolishing the bathroom
Fixing or replacing utility lines
Installing new fixtures [cabinets, backsplash, vanity tops]
Adding latest and modern lighting and ventilation system
Finishing touches and walkthrough
Spruce Up the Bathroom and Add Value 
A complete bathroom remodeling project would not only spruce up the look but also add value to your property. According to stats, a mid-range bathroom remodeling will bring in an ROI of more than 70%. Let's take a look at some other benefits of Lynwood bathroom remodeling:
Increase home value
Reduce costs of repair and maintenance
Spot leaks and fixing utility lines
Add space and adequate lighting
Reduce electricity bills with cost-saving lights
Add a unique and modern touch to your home
Make showers and baths pleasant and comfortable
Other Services
Our team has vast experience in providing services such as Lynwood bathroom remodeling. However, we have expertise in other areas. Let's take a look at what these services include:
Kitchen remodeling
Window installation
Driveway maintenance
Roofing
Landscaping
Painting (interior and exterior)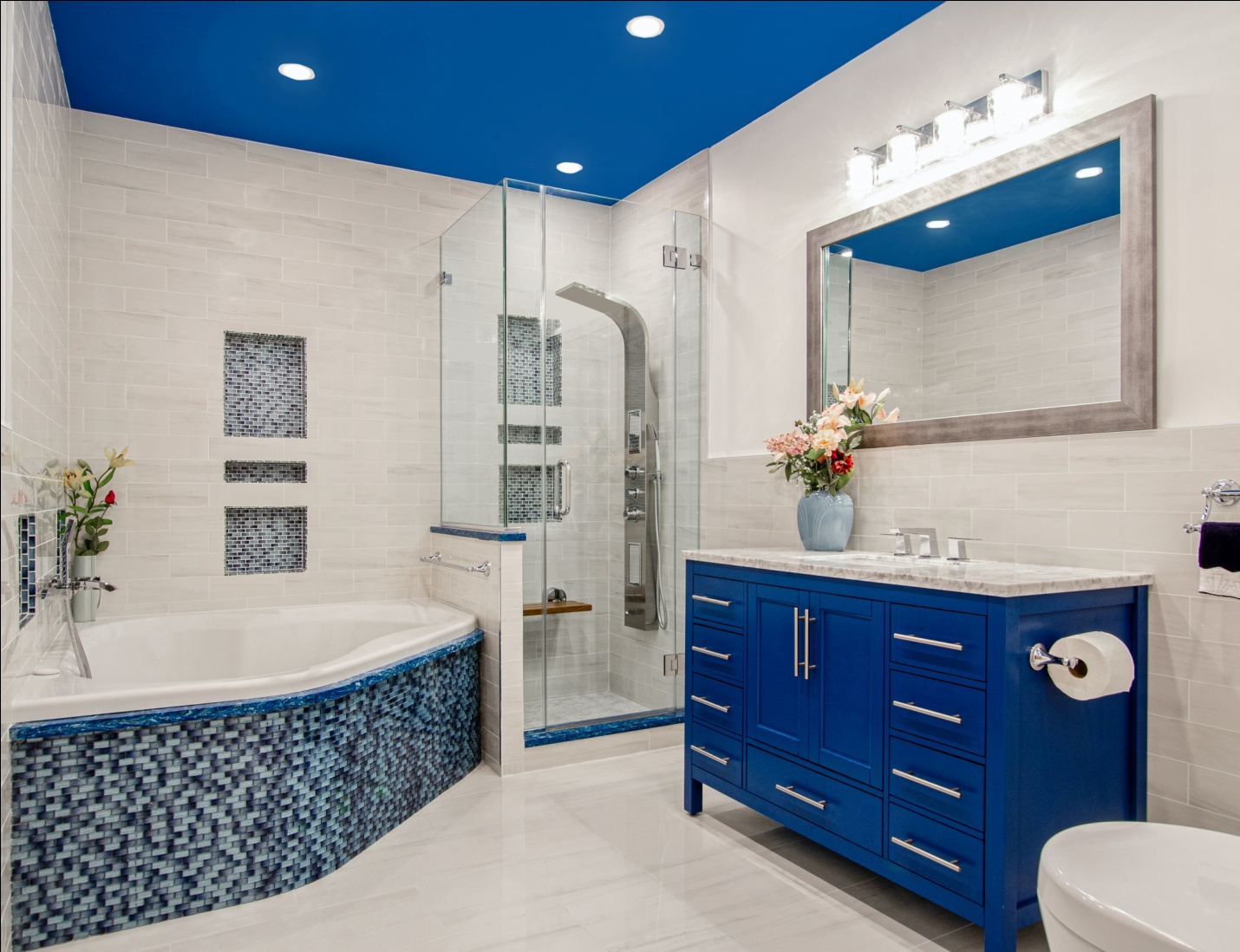 Stress-Free and Budget-Friendly
With the help of professionals, the process of remodeling can be significantly pocket-friendly and stress-free. Our team will make it to the location with all the necessary equipment and tools. In addition to this, our certified professionals give you options to reduce bathroom remodeling costs.
Here are some bathroom materials to choose from:
Ceramic
Concrete
Marble
Porcelain
Cement
Tile
Granite
Plywood
Natural Stone
If you're contemplating the idea of turning it into a DIY project, we would advise against it. A tiny mishap can lead to costly repairs and reinstallation. You should always hire an insured company for security and safety.
Lynwood Bathroom Remodeling Contractors
EcoStar Remodeling & Construction – Bathroom Remodeling Contractors Lynwood is here to help you. We will assist you from the moment you make your first call till the final inspection. We can make your home stand out with our excellent bathroom remodeling ideas and services.
Call us now for your home bathroom remodeling in Lynwood and turn your dreams into reality. Let's replace the old and moldy cabinets and flooring and upgrade the ventilation system to make the room beautiful and safe for everyone! We can also upgrade the bathroom to make it more accessible for the elderly and differently-abled individuals.
Do You Offer Free Quotes?
Yes, we do. We are happy to give you a free quote for your project. You can expect a response within 48 hours!
Will You Help Me Attain Permits For My Whole Home Remodeling Project?
We will absolutely help you attain permits for your project. You can rely on us to work with the local government to ensure we have the green light to move forward with our plans.
How Much Does Whole Home Remodeling Cost?
Unfortunately, we can't give you a specific number without knowing more about your project. Every whole home remodeling project varies in price depending on factors such as the materials you choose, how extensive your project is, the size of your home, and many other factors.