EcoStar Kitchen Remodeling in City Terrace, LA
The kitchen is the most happening room in a house. It's what makes a house a home. At EcoStar Remodeling & Construction, we understand the importance of kitchens in a household and thrive on making them a better place to be in. The kitchen remodeling in City Terrace we complete includes everything from minor repairs to major remodeling to ensure that your kitchen is 100% functional as well as aesthetically pleasing.
Our team of experts includes experienced designers, architectures, craftsmen, and skilled workers who have all been in the field for years. We have dealt with all sorts of kitchen remodeling services in our tenure. Therefore, whether you are looking for a vintage kitchen or a contemporary, you know who to reach out to!
Kitchen Remodeling Services We Offer
We offer bespoke kitchen remodeling services in City Terrace to cater to all your needs. If you have a favorite kitchen idea pinned on your Pinterest, let us know, and we'd transform your kitchen into exactly like that picture. Our main goal of remodeling kitchens is to make them more breathable, lit, functional, and a better place to be in.
Kitchen remodeling in City Terrace includes the following:
Planning your kitchen remodel
Designing a layout
Purchasing quality materials
Redoing the entire flooring
Repairing or reinstalling new cabinetry
Building windows
Installing new lighting
Redoing the paint
Replacing faucets
Installing kitchen appliances
Optimizing kitchen storage
And more!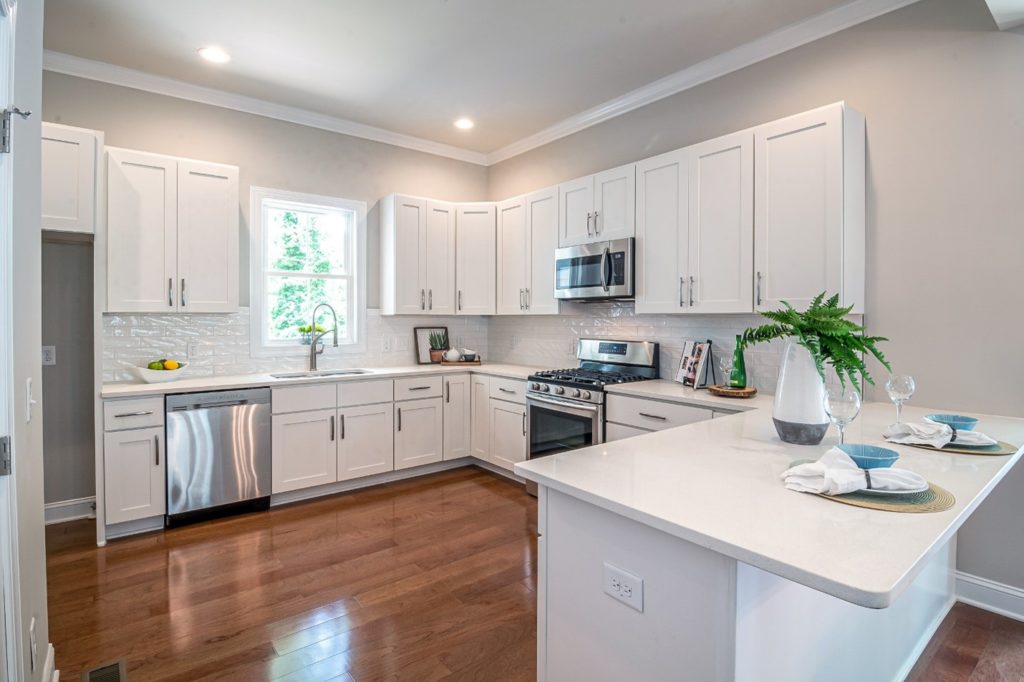 Kitchen Remodeling in City Terrace FAQs
1. Why is kitchen remodeling services are so expensive?
The reason why kitchen remodeling services are expensive is that it is material intensive. From flooring and walls to cabinets and appliances, a kitchen remodeling replaces everything with newer options, which are awfully expensive.
However, if you have a low budget, our team can accommodate your needs within your budget.
2. What is the most expensive part of kitchen remodeling services?
Installing new cabinetry is the most expensive part of any kitchen remodeling services as it includes installation costs, material costs, and labor costs.
3. What is the most popular kitchen cabinet color in 2021?
The most popular kitchen cabinet colors in 2021 are white, grey, and some vibrant colors to pop out in a neutral-themed kitchen.
4. How much does a kitchen remodeling cost?
The cost of your kitchen remodeling depends on the materials you choose, the extent of remodeling you want to get, and the area of your kitchen. Get in touch with us now at (818) 918-2210 to get a free estimate for your kitchen remodeling project.
5. How long does it take to remodel a kitchen?
All kitchen remodeling plans depend on the extent of remodeling needed and the timeframe provided by customers. If you need the remodeling done urgently, our contractors will work around your schedule and execute the project within your timeframe.
6. Do you offer customization options?
Yes! If you have a kitchen remodeling design in mind or perhaps a picture of your ideal kitchen, let us know, and we'll transform your current kitchen into one of your ideal kitchens.
Start Kitchen Remodeling in City Terrace Today!
Let our team help you with kitchen remodeling in City Terrace. Give us a call at (800) 764-7130 to discuss your needs, and our team would be right there to inspect your space and give a free quote. You should also visit our kitchen remodeling page to learn more about our services. We'll choose the best quality materials for your kitchen and bring those Pinterest dream kitchens to life!