Finding the right East Los Angeles roofing contractor is challenging. With so many contractors to choose from, how do you pick the right one? Simple, choose EcoStar Remodeling & Construction! We are experts at what we do and deliver results.
About East Los Angeles
The city of East Los Angeles gets its name from being located east of the LA River. This region boasts a diverse history, being home to people of multiple religious and ethnic backgrounds.
East Los Angeles is home to a proud community of Latinx people and generally comprises of hardworking people. To breathe new life in your property, you should consider new East Los Angeles roofing.
Our East Los Angeles Roofing Services
There are three primary East Los Angeles roofing services we provide: inspections, repairs, and replacements.
All of these services are interrelated, and they are all critical to keeping your roof in good condition. Here are some details about each of them.
Inspections
Roof inspections are mandatory if you wish to remain eligible for insurance claims. For your safety and your roof's longevity, contact us twice a year for roof inspections.
Professionals can diagnose more problems in your roof than you can. Following an impact or a heavy storm, your roof may sustain damage that is not visible at the surface. Such damage affects your roof's structural integrity and can lead to expensive repair costs in the future.
Ideally, you should conduct frequent visual inspections on your own to ensure there isn't any significant roof damage. If you notice anything out of the ordinary, call us immediately, and we will have a look.
Repairs
Delaying roof repairs is the worst thing you can do for your wallet and your home. As East Los Angeles roofing services contractors, we can assure you that many people lose their insurance coverage because of poor roof maintenance.
After a storm or any potential causes of damage, call us up for a roof inspection. We will patch up any insignificant damage when we notice it, so you don't have to worry about your roof deteriorating any further.
Some signs indicating that you need roof repairs are:
leaks
broken, missing, or curled shingles
puddle spots on the ceiling
broken gutters
peeled or fading paint
If you come across any signs of damage, contact us immediately before it spreads. Insignificant damage can spread and become extensive. Address it at the earliest to avoid expensive maintenance costs.
Moisture also leads to mold growth, especially in the attic. In turn, this leads to rot and widespread structural damage.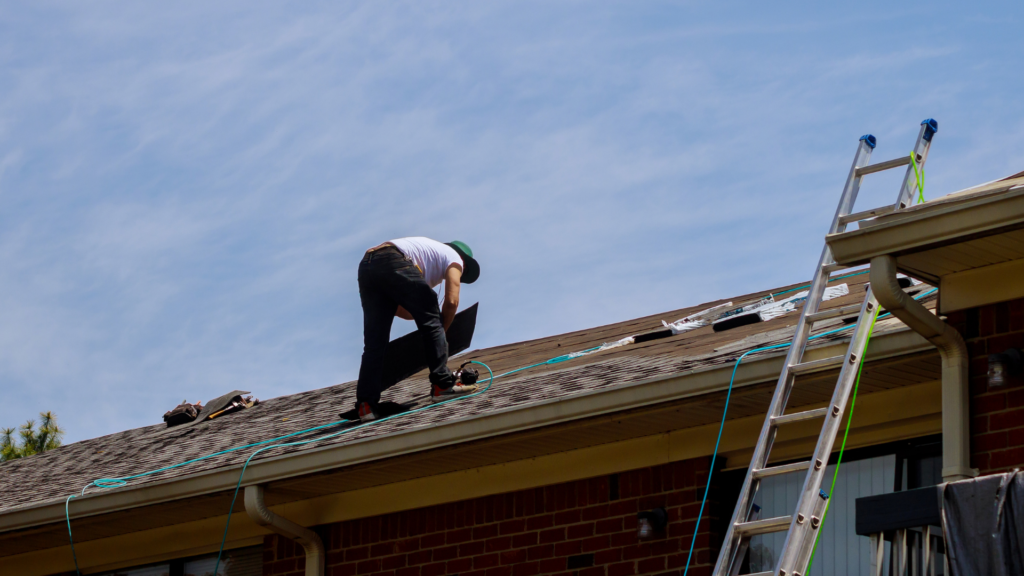 Installation
Two situations require roof installations: when you are building a house or looking for a roof replacement.
Roof installations are tricky. Installers without the right tools, skills, and experience are very likely to mess up. Since most intermittent roof leaks are due to improper roof installation, you should always contact us because, our East Los Angeles roofing services contractors are professionals in the field.
Why You Should Never DIY a Roof Project
Many people try to attempt a roof repair or installation project on their own or outsourcing it to a budget contractor. Doing so is a terrible idea because roofers charge according to their experience and skills.
An improper roofing project can be disastrous in many ways. Roofing is a highly specialized field and requires professional tools, experience, and training. There is a high chance of property damage and injury to workers or residents without any of these things.
The Best East Los Angeles Roofing Contractor
Those who want a stressless experience with your East Los Angeles roofing projects won't be disappointed while working with us. We offer the best services and work to exceed your expectations. Visit our East Los Angeles roofing services page to learn more about what we have to offer and the roofing materials we work closely with.
Is EcoStar Remodeling & Builders licensed and insured?
Yes, EcoStar is a licensed and insured contractor. Our license number is 1034806. We carry liability, disability, and worker's compensation insurance with total coverage of $5 million.
How long does it take to get an estimate?
Typically, we can get you an accurate estimate within 48 hours of your inquiry. However, some factors may speed up or slow the process, such as the time of year, contact method, and the number of details you provide.
How long does the estimate last?
The price attached to your estimate is typically good for 30 days. When the market is volatile, that time frame will change. We will inform you on how long your estimate is good for when we provide it.
Can I see the design of my project before construction?
Yes! In fact, we never start construction until you approve of the design. Our designers and project managers will speak to you about what you want in your home and develop 2D and 3D models for you to view before construction begins. These models can be changed if you request.
Does EcoStar Remodeling & Construction obtain permits?
Yes, we apply for all the permits your home improvement project requires well before construction.
Does EcoStar Remodeling & Construction offer warranties?
Yes! We are happy to offer a 2-year workmanship warranty. We also pass along any warranties manufacturers offer on their products, such as flooring, roofing, countertops, etc. Since we use so many different product manufacturers, ask us what types of warranties are available for your specific project.