Live it up in style with our East Hollywood bathroom remodeling projects. At EcoStar Remodeling & Construction, we believe in delivering quality during our remodeling projects. Our main aim is your satisfaction, so we do everything possible to exceed your expectations.
About East Hollywood
Hidden in the shadows by its glamorous neighbors, East Hollywood is an excellent place to live. The region has a vintage vibe to it because of the many old-style buildings it has.
If you enjoy the outdoors, East Hollywood has many enjoyable sites where you can enjoy with your loved ones. The city also has places for people who enjoy art and drama, plus you will never tire of the multiple dining options in the region.
Why Choose Us?
With the growing number of East Hollywood bathroom remodeling companies, finding the right one for your needs can be confusing. We are experts at bathroom remodeling projects and have a track record of delivering results.
Unlike most other contractors, you don't have to worry about unnecessary delays from our end. We pride ourselves on our efficiency and ability to work with tight deadlines.
Our customers love our services and often come back for other projects.
East Hollywood Bathroom Remodeling FAQs
We'll address common questions you may have before committing to an East Hollywood bathroom remodeling project to help you get started.
How Much Does It Cost?
East Hollywood bathroom remodeling projects vary depending on several factors such as:
Condition: Your bathroom's current condition indicates how much work we need to do.
Material Choice: Different materials, fixtures, and lights can greatly impact the resources you need for a bathroom remodeling project.
Size: Larger bathrooms require more materials, so it costs more to remodel them.
Additionally, new bathroom fixtures are more power and water-efficient.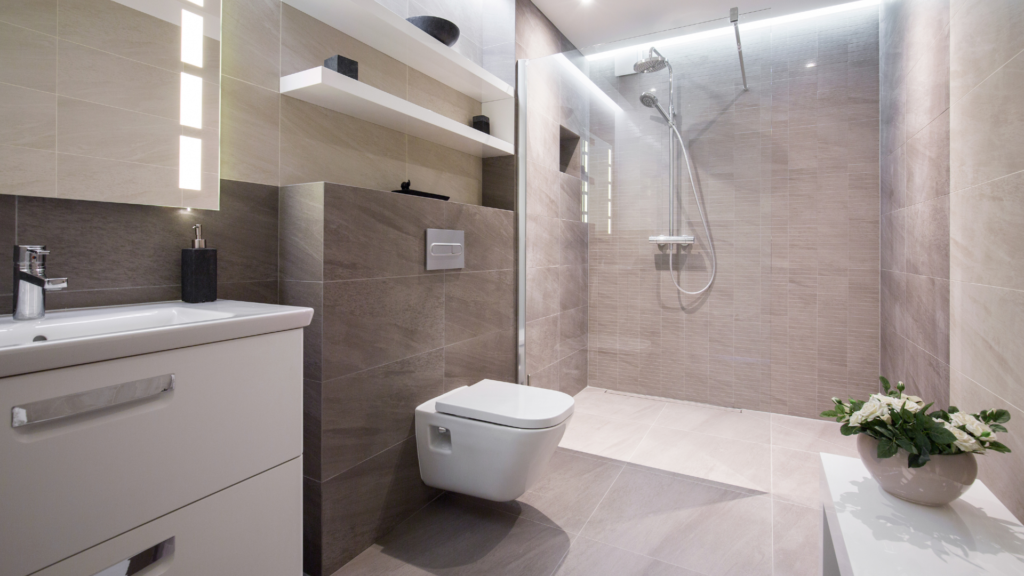 Will It Damage Your Home?
When you choose us for an East Hollywood bathroom remodeling project, you don't need to worry about damage to the rest of your home.
We conduct a thorough inspection before starting a project to understand potential things that can go wrong. Our team ensures that everything is secure to avoid any damage to life or property during the remodeling job.
When Should You Remodel Your Bathroom?
We recommend engaging in an East Hollywood bathroom remodeling project at least once in 15 years.
With the combination of water pipes and electrical wires that runs through bathrooms, neglecting remodeling can be disastrous. Leaky plumbing can lead to leaks that damage the rest of your home and lead to mold growth.
Electrical fires may also start because of leaky pipes near electrical wiring. A bathroom remodeling project can help you prevent potential problems.
Another thing to note is older bathrooms did not have many safety measures to reduce the risk of injury. When we remodel your bathroom, we ensure that we design it to drain more effectively.
We also add grab handles to help you stabilize yourself while getting out of the shower. Most older bathrooms have an inefficient layout, so we will improve it to reduce the risk of bumping into things.
However, if you sourced the job to a budget or inexperienced contractor, you would need more frequent bathroom remodeling. Signs that you need bathroom remodeling are:
your bathroom is older than 15 years
faucets are leaking
there are no measures to increase efficiency
Get East Hollywood Bathroom Remodeling Services Today!
Many people might want to remodel their bathroom for a refreshed design. Call us today and get started if you want a contractor who prioritizes your satisfaction and peace of mind during an East Hollywood bathroom remodeling job! 
Is EcoStar Remodeling & Builders licensed and insured?
Yes, EcoStar is a licensed and insured contractor. Our license number is 1034806. We carry liability, disability, and worker's compensation insurance with total coverage of $5 million.
How long does it take to get an estimate?
Typically, we can get you an accurate estimate within 48 hours of your inquiry. However, some factors may speed up or slow the process, such as the time of year, contact method, and the number of details you provide.
How long does the estimate last?
The price attached to your estimate is typically good for 30 days. When the market is volatile, that time frame will change. We will inform you on how long your estimate is good for when we provide it.
Can I see the design of my project before construction?
Yes! In fact, we never start construction until you approve of the design. Our designers and project managers will speak to you about what you want in your home and develop 2D and 3D models for you to view before construction begins. These models can be changed if you request.
Does EcoStar Remodeling & Construction obtain permits?
Yes, we apply for all the permits your home improvement project requires well before construction.
Does EcoStar Remodeling & Construction offer warranties?
Yes! We are happy to offer a 2-year workmanship warranty. We also pass along any warranties manufacturers offer on their products, such as flooring, roofing, countertops, etc. Since we use so many different product manufacturers, ask us what types of warranties are available for your specific project.