Downey Bathroom Remodeling
The Right Skills for the Job
EcoStar Remodeling & Construction is the Downey bathroom remodeling contractor of choice for many residents of the city. We strive to deliver the best results possible to ensure your satisfaction. Our bathroom remodeling contractors team has the training, skills, and experience needed to ensure the project is executed to perfection.
About Downey
If you are looking for a city with everything you need, Downey is the place to be. The city has multiple restaurants and flagship stores for its residents to offer access to everyday items.
Additionally, the city lies in proximity to major freeways and is close to downtown LA, making it a great place to live. As per the 2019 census, the city is home to a population of 112,322 people.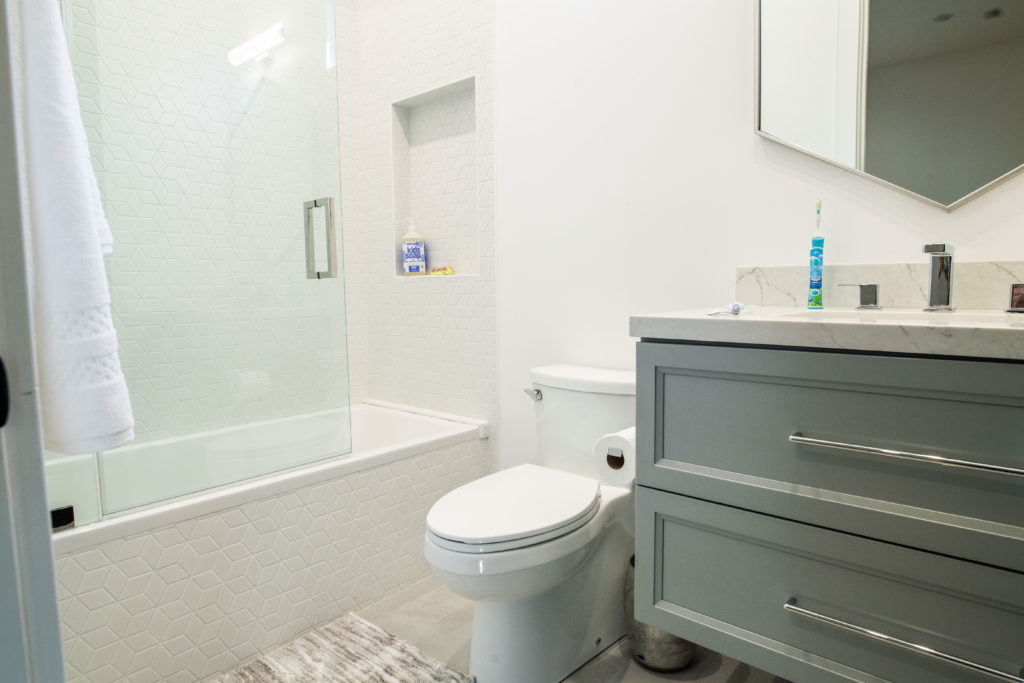 Benefits of Downey Bathroom Remodeling
As a property owner, getting Downey bathroom remodeling services can change your living experience. A new bathroom makes your home looks newer while also boosting your property's resale value.
A newer bathroom is less likely to leak and result in expensive repair costs, so many customers are willing to pay a premium for the convenience a remodeled bathroom offers.
You also can get over your rational fear of slipping in the bathroom and injuring yourself. Our engineers design your new bathroom to drain water faster to make the floor less slippery. Additionally, we also add safety devices that increase your mobility.
New lighting is another aspect of our Downey bathroom remodeling project. We make your bathroom stand out and improve visibility by adding new lighting.
Do you know that we are going to run out of fresh water in less than two decades? Modern fixtures can help you reduce your water consumption by increasing efficiency.
When Should You Remodel Your Bathroom?
Ideally, you should remodel your bathroom every 10 to 15 years. Beyond this time, chances of damage to the rest of your home increase.
Your bathroom comprises many pipes and electrical connections. These two things can be disastrous when combined. Additionally, as pipes wear down and leak, you might have to shell out more money for repairs than anticipated.
Older bathrooms tend to wear out faster because of their constant exposure to water. Any damaged floors or walls can be a potential area for mold growth that can rapidly damage your home.
How Much Does Downey Bathroom Remodeling Cost?
The exact cost of the job depends on several factors. Your bathroom's size and condition, the work you want us to do, and your material choice impact the cost.
However, choosing us to remodel your bathroom ensures you get superior quality and longevity from your home. We use the best tools and industry-leading practices to ensure you get the best service possible.
Does Bathroom Remodeling Affect Your House's Structure?
At EcoStar Remodeling & Construction, we take all the precautions necessary to make the project as safe as possible for you and your home. We carefully inspect and analyze the impact of the project before embarking on a Downey bathroom remodeling job.
Our bathroom remodeling contractors team knows what measures to take to prevent any structural and aesthetic damage, and they ensure to follow standard protocol. You can rest easy while our team completes the bathroom remodeling project.
Looking for a Downey Bathroom Remodeling Job?
Choose EcoStar Remodeling & Construction for your next Downey bathroom remodeling project. We have the right credentials for the job and a commitment to delivering results. Our bathroom remodeling contractors team specializes in doing the job properly the first time around and takes only the amount of time we need. When you choose us, you need not worry about unnecessary delays.
Do You Offer Free Quotes?
Yes, we do. We are happy to give you a free quote for your project. You can expect a response within 48 hours!
Will You Help Me Attain Permits For My Whole Home Remodeling Project?
We will absolutely help you attain permits for your project. You can rely on us to work with the local government to ensure we have the green light to move forward with our plans.
How Much Does Whole Home Remodeling Cost?
Unfortunately, we can't give you a specific number without knowing more about your project. Every whole home remodeling project varies in price depending on factors such as the materials you choose, how extensive your project is, the size of your home, and many other factors.