Cypress Kitchen Remodeling
Rethink Your Kitchen Design
You might only consider changing design and color themes when you think about a Cypress kitchen remodeling project. However, when our team plans your Cypress kitchen remodeling project, we will take care of all the underlying elements, including plumbing and electrical systems.
Don't have a design idea? No problem, our team of remodeling contractors will help you pick a design based on your preferences and budget. What's the upside of hiring us? We will give you a free estimate for any of our services, which include roofing and landscaping, among other things.
Cypress Kitchen Remodeling
Cypress kitchen remodeling projects usually last several weeks, depending on the extent of the project and the total area to be covered. In addition to kitchen remodeling, we will also install new light fixtures and outlets to let natural lighting pass through.
Here are some of the steps involved in a Cypress kitchen remodeling project:
Demolishment of the existing elements
Installing new flooring materials
Adjusting or replacing the plumbing and electrical systems
Installing a new drywall
Painting the walls with a color of your choice
Installing cabinets and countertops
Installing new light fixtures and any other remaining appliances
Value for Money
Whether you're adding an outdoor kitchen or extending the space in your existing kitchen, you'll always get great value for money. According to the 2020 National Averages, such minor remodels bring an ROI of more than 70%.
In addition, EcoStar's team will provide you with nothing but the best quality materials in your budget. So, after the kitchen remodeling in Cypress, you can expect to enjoy your space to the fullest. We will help you modify your space and make it your own.
Cost and Time-Efficient Solutions
You can do anything yourself if you put your mind to it. However, remodeling a kitchen yourself would mean shopping for materials and purchasing tools to carry out the project efficiently. On the other hand, hiring remodeling contractors will come loaded with the market knowledge and tools required.
In addition to their experience and expertise, our team will also provide you the most time-efficient solutions so you can spend your time elsewhere, doing the things you love.
Peace of Mind
Working with EcoStar means working with certified professionals who will take responsibility for any mishap. Our company is fully insured, so if your property is damaged during the remodeling process, we will cover all the costs of damages.
We will answer all your queries and clear any misconceptions from the get-go. Your peace of mind and satisfaction are our utmost priority. So, if you want a smooth and steady process, EcoStar is the best option for remodeling in Los Angeles.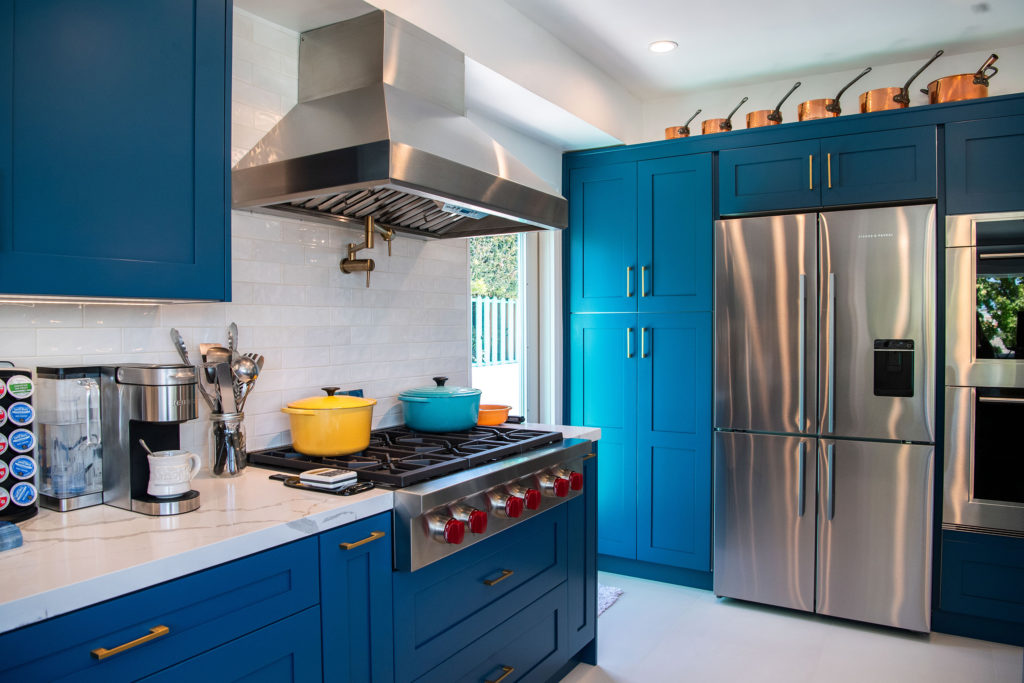 About EcoStar
EcoStar has been serving hundreds- if not thousands- of customers for several years now. Here's a list of the services we provide:
Bathroom Remodeling
Roofing
Landscaping
Window Installation
Driveways
Interior and exterior paint
If you want to complete a Cypress kitchen remodeling project or another type of project mentioned on our site, give us a call now! From the moment you call us, our team will guide you through the process and keep you updated till the end. So, if you're on the lookout for reliable and trustworthy remodeling contractors for your indoor or outdoor kitchen, join our growing family now.
Is EcoStar Remodeling & Builders licensed and insured?
Yes, EcoStar is a licensed and insured contractor. Our license number is 1034806. We carry liability, disability, and worker's compensation insurance with total coverage of $5 million.
How long does it take to get an estimate?
Typically, we can get you an accurate estimate within 48 hours of your inquiry. However, some factors may speed up or slow the process, such as the time of year, contact method, and the number of details you provide.
How long does the estimate last?
The price attached to your estimate is typically good for 30 days. When the market is volatile, that time frame will change. We will inform you on how long your estimate is good for when we provide it.
Can I see the design of my project before construction?
Yes! In fact, we never start construction until you approve of the design. Our designers and project managers will speak to you about what you want in your home and develop 2D and 3D models for you to view before construction begins. These models can be changed if you request.
Does EcoStar Remodeling & Construction obtain permits?
Yes, we apply for all the permits your home improvement project requires well before construction.
Does EcoStar Remodeling & Construction offer warranties?
Yes! We are happy to offer a 2-year workmanship warranty. We also pass along any warranties manufacturers offer on their products, such as flooring, roofing, countertops, etc. Since we use so many different product manufacturers, ask us what types of warranties are available for your specific project.