Many people don't consider Bellflower roofing when they think about renovating their home. However, your home's roof experiences the harshest weather conditions and fluctuations in temperature.
You need to choose the right roof for your purposes.
About Bellflower
Bellflower is in southeast Los Angeles County and is a central location to popular tourist sites. The suburban city offers quality education and many public parks and coffee shops for residents to enjoy. 
Bellflower Roofing Options
There are a few considerations when you think about your Bellflower roofing options. The first is the type of roofs. You can either opt for a flat or pitched roof.
Depending on your requirements, a flat roof offers benefits such as roof access for parties and rooftop gardens. On the other hand, a pitched roof allows indoor space to build an attic. Steep roofs also have superior insulation and add a rustic aesthetic to your home.
Other options for roofing include the materials we use. Material choice is a key consideration when it comes to making an informed decision according to the weather conditions, your use case, and your budget.
When Do You Need a New Roof?
At some point in your home's life, you will need a new roof. Here are some situations where you can avail of our services.
Building a Home
The first situation that requires you to purchase a roof is when you are building a house.
Since most roofs leak because of improper installation, you should contact EcoStar Remodeling & Construction – the best roofers in Bellflower for a worry-free experience. Our installers have the training and experience they need to ensure a seamless Bellflower roofing experience.
Age
Most roofs last around 20 years, after which you should replace them. Even if your roof seems to be immaculate, exposure to the environment increases its wear. Most insurance companies do not cover older roofs, so any repairs to one come out of your pocket.
Frequent Repairs
If you find yourself frequently repairing your roof, you might want to consider replacing it. The damage may be a result of poor installation or manufacturing errors. You can easily spend more money repairing an old roof compared to buying a new one.
Other Bellflower Roofing Services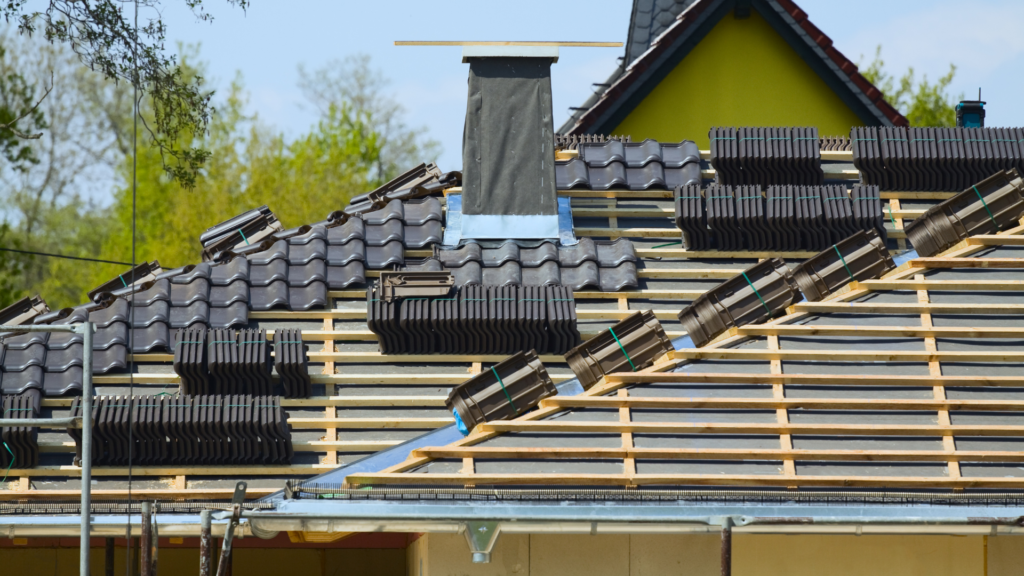 Apart from new roof installations, Roofers in Bellflower – EcoStar Remodeling & Construction offers repair and inspection services. Since you need a good contractor for both these services to remain eligible for insurance and warranty claims, we are the best people for the job.
Inspections
Roof inspections are crucial for ensuring your roof lasts for its expected lifespan.
Contact our professional inspectors at least twice a year to ensure your roof is in perfect condition. Besides routine inspections, contact us after storms or impact damage to the roof. While the damage may not be visually apparent, any damage to the roof's structure can be hazardous for you.
Insurance companies don't cover roof damage on a structure that is not routinely inspected and maintained.
Repairs
One of the worst things you can do is neglect roof repairs. Getting Bellflower roofing installation from a good contractor isn't enough. You need to follow up with frequent visual inspections and contact us biannually to check if everything is in place.
Here are some signs you need roof repairs:
missing, curled, or broken shingles
ceiling stains
peeled paint and discoloration
broken chimney flashing, gutter, and vents
intermittent or frequent roof leaks
Never delay Bellflower roofing repairs. The damage can worsen with time and lead to expensive repair or replacement costs.
Need Bellflower Roofing Services? Look No Further! – Roofers in Bellflower
If you are on the lookout for a Bellflower roofing contractor, we are the ones for you. With many satisfied customers and a commitment to deliver results, you prioritize your peace of mind when you choose EcoStar Remodeling & Construction. Give us a call today or visit the contact us page to fill out the form for a free quote!
Is EcoStar Remodeling & Builders licensed and insured?
Yes, EcoStar is a licensed and insured contractor. Our license number is 1034806. We carry liability, disability, and worker's compensation insurance with total coverage of $5 million.
How long does it take to get an estimate?
Typically, we can get you an accurate estimate within 48 hours of your inquiry. However, some factors may speed up or slow the process, such as the time of year, contact method, and the number of details you provide.
How long does the estimate last?
The price attached to your estimate is typically good for 30 days. When the market is volatile, that time frame will change. We will inform you on how long your estimate is good for when we provide it.
Can I see the design of my project before construction?
Yes! In fact, we never start construction until you approve of the design. Our designers and project managers will speak to you about what you want in your home and develop 2D and 3D models for you to view before construction begins. These models can be changed if you request.
Does EcoStar Remodeling & Construction obtain permits?
Yes, we apply for all the permits your home improvement project requires well before construction.
Does EcoStar Remodeling & Construction offer warranties?
Yes! We are happy to offer a 2-year workmanship warranty. We also pass along any warranties manufacturers offer on their products, such as flooring, roofing, countertops, etc. Since we use so many different product manufacturers, ask us what types of warranties are available for your specific project.