You might be thinking that the same four walls that you're used to are getting a bit bland. Feature walls, also called accent walls, are a fun and fresh way to liven up your living space. Whether you decide to paint one of your walls a darker color to offset the lighter-colored walls or scour the web for a vibrant wallpaper, each of these can transform your space without having to spend money on new decór or furniture. Read on for inspiration to make your home feel brand new again. 
Choosing the Feature Wall
Truthfully, there's no wrong answer in choosing the right wall to become your feature wall. Though the wall you choose as your feature wall is by no means permanent, the task of choosing the wall is an understandably daunting one. Working with a painter or remodeler can make this step simpler as their expertise is a great resource. As a general rule of thumb, the wall opposite the entryway of that room is a good place to pick. Ultimately, the decision is yours. 
Wood Cladding
Wood is a unique and versatile option is making a statement in your living space. What makes wood so versatile is the varying colorings each type possesses. A pale wood can give a cool feeling, whereas a deeper wood can give a space warmth. To make the wood cladding unique, the pattern or amount of cladding you use can change the feelings and emotions a room evokes entirely. Whether you choose to put thin, vertical beams on a portion of your wall or choose to go all out with it in an abstract pattern, this option is sure to create a focal point in your home.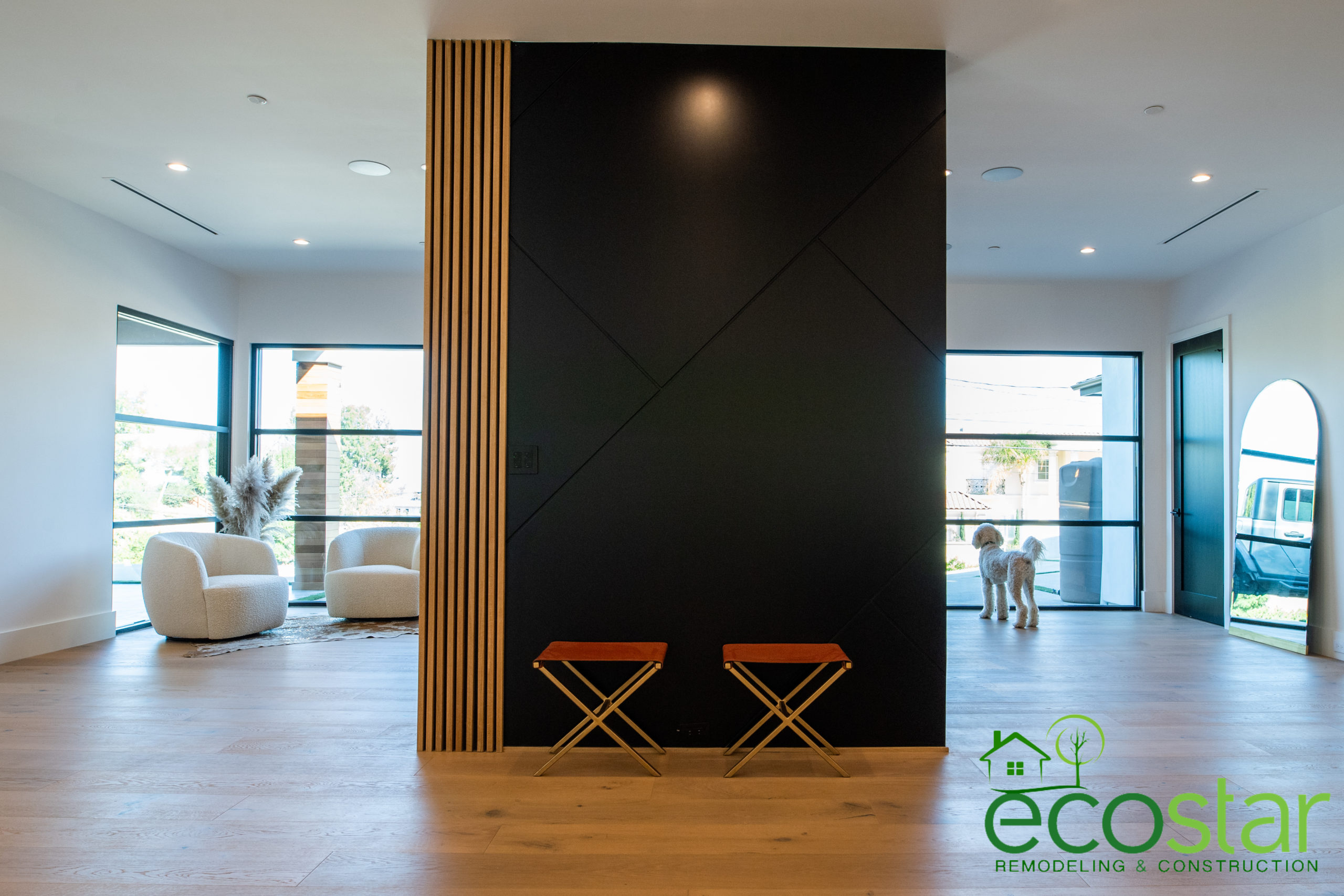 Shiplap
Probably one of the most popular feature wall materials to date, shiplap is a common, simple, and classic choice. In varying plank sizes, shiplap gives a space a clean and uncomplicated feeling. Though you may consider shiplap to carry a more country flare, shiplap is very unassuming and typically lends itself to the decór preexisting in a room instead of overpowering it. Perhaps you aren't sure you want to make a big statement with your feature wall. If this is you, an effortless white shiplap might work. 
Wallpaper Patterns
Bold, patterned wallpapers are back in style. Whether it be a floral wallpaper that elicits fairytale vibes or a muted print that you can pair fun furniture with, wallpapers are an easy choice to truly transform your living space. What patterned wallpapers allow you to do is be fearless. Pairing a neutral, tanned leather couch with a deep and richly colored wallpaper can play with the lights and darks of your space. Or if your space is more airy and light, adding a fun floral print will tie it all together. There are many places to find fun wallpapers, but try to look online first. Anthropologie is a common store with stylish wallpaper patterns for you to choose from. 
Two-Tone
Like shiplap, two-tone walls are another simple way to make a feature wall in your home. This idea depends entirely on the paint choices you use, though this method has also been known to work well with a half-wallpaper, half-paint wall, too. Start by picking out some paint swatches. You can pick from colors already present in the room or select corresponding colors that align with the scheme. Choose a neutral color for the top half of the wall and a bolder shade for the bottom–for instance, cream and maroon. Whatever you choose, you can't go wrong.
Express Yourself With EcoStar
If your space is feeling bland, let EcoStar Remodeling & Construction be your guide in interior painting. Our team of professionals can help you bring out the very best of your space, whether it be with a fresh coat of paint or a bit of dimension with other materials. Call us at 1-800-764-7130 or get a free estimate. Let's freshen up your space together!