Your bathroom needs to be one of the most functional parts of your home. A working tub, shower, faucet, and toilet are a must, but what is also a must is comfortable and relaxing. Aesthetically pleasing bathrooms are becoming a necessity in contemporary homes. Form follows function, but style is important. 
If your bathroom isn't meeting your standards, it's time for a bathroom remodeling. EcoStar Remodeling & Construction is available to give you the bathroom of your dreams. Bathroom remodeling costs in Los Angeles are one of the first things you think about when you decide it's time for a remodel. Before discussing costs, it's important to understand the factors that influence the cost of your bathroom remodeling. 
Factors That Influence Cost
There are many variables to take into account when discussing bathroom remodeling costs. Chief factors that must be considered include the size and layout of your bathroom, the scope of what you want to be done, and the costs of materials. All of these questions will be asked during the consultation phase of a bathroom remodel in Los Angeles with EcoStar Remodeling & Construction.
Size and Layout
What bathroom are we remodeling? Are we making your current primary bathroom a home spa? Are we adding storage and space to the kids' bathroom? Are we giving a half bathroom a much-needed facelift? When you first decide to get a bathroom remodeling in Los Angeles, you will likely already know which bathroom you want us to give a makeover to. But the question of what you have in mind for the bathroom is an important one to keep in mind.
A half bathroom remodeling shouldn't take much time, effort, and materials, making it one of the less expensive bathroom remodeling projects that can be done. But if your secondary bathroom or primary bathroom needs a lot of chopping and changing, the cost will start to rise. 
Additionally, the layout of the said bathroom is also critical to understanding the final cost. Perhaps there is a better layout option available for the space. This could include relocating sinks, toilets, tubs, and showers, which will also mean additional plumbing and piping work to fit the new layout.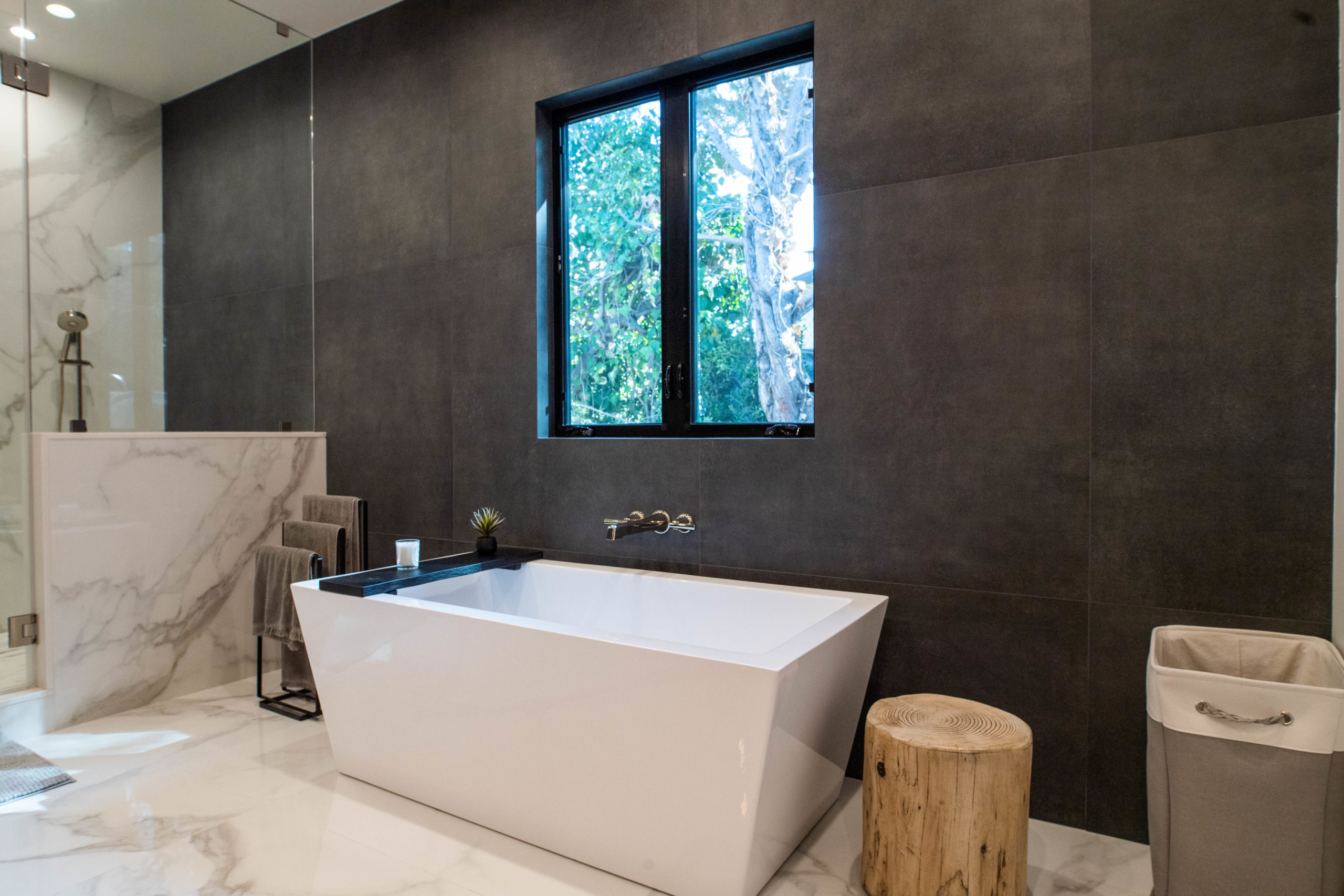 Scope
Perhaps the most impactful part of the bathroom remodeling costs is what you want to be done to your bathroom. Some homeowners simply want a walk-in shower, while others want tiling and backsplash features. Our designers at EcoStar Remodeling & Construction pull out all the stops. 
Your vision for your bathroom remodeling is key. We want to make sure your remodeled bathroom is everything you could've hoped for. Our experts work closely with our clients to plan out the bathroom, taking into account feasibility and safety considerations. We will make up 2D and 3D renderings of the bathroom to show you what your bathroom will look like. If the design is not to your satisfaction, we can change it. All of these things are taken into account when it comes to bathroom remodeling costs. 
Material Costs
The cost of materials for your bathroom remodeling can add up quickly. For instance, one of the most expensive parts of a bathroom remodel is the cost of cabinetry and countertops, both of which can cost about $200-$3,000. The necessary items are the most costly, though. These are, of course, toilets, showers, sinks, and tubs. Tubs, for instance, can cost anywhere from $600-$10,000, depending on how luxurious of a look you're going for. 
The Final Cost
With all of these factors in mind, we can finally understand how much a bathroom remodeling costs in Los Angeles. It is important to note that bathroom remodeling costs heavily depend on the location of your home. For instance, a bathroom remodeling costs $5,300-$12,000 in El Passo, TX. But a bathroom remodeling in Los Angeles costs $12,000-$25,600 on average. You might ask yourself why this might be. The answer is that if you live in an area with a higher cost of living, such as a major metropolitan city, you will pay more for remodeling projects. 
The Best Team for the Job
Like all things, it is important to explore your options. There are many contractors and designers in the business of bathroom remodeling, especially in a city like Los Angeles. It's imperative you read reviews online, ask friends and family for recommendations, and reach out to multiple construction companies for estimates. At EcoStar Remodeling & Construction, we offer free estimates and affordable pricing to give you the best possible bathroom remodeling experience. Don't hesitate to give us a call at (818) 918-2210 or send us an email.