Even though driveways are more about functionality rather than their looks, your cars deserve a beautiful parking spot! Pretty driveways are getting popular today as they add great value to your property and boost its curb appeal. You can perform a quick search online for the best driveway ideas, but we wanted to list our favorites.
The Best Driveway Ideas
Read on to find out the best driveway ideas that would make driving up to your driveway feel like a scene out of the movies.
1. Grass-Jointed Pavers
Grass-jointed pavers can form an attractive geometric design in front of your house. These pavers add a pop of color to your mundane outdoors, thanks to the green grass that comes with them. Designed with permeable concrete pavers, these driveways can stay safe from flood damage as the rainwater is infiltrated into the ground.
Since these pavers don't demand a separate drainage system, your costs of installing and maintaining your driveway would be lower than typical driveways.
2. Limestone Pavers
Limestone pavers are a great option for modern driveways. Although expensive, these pavers are extremely beautiful and worth the cost because they look better as they age. Limestone pavers are made from natural stone, which can be a great aesthetic uplift to the exterior of your house. Their textured surface is a great addition to your dull outdoors. This material is quite commonly used for patios and swimming decks.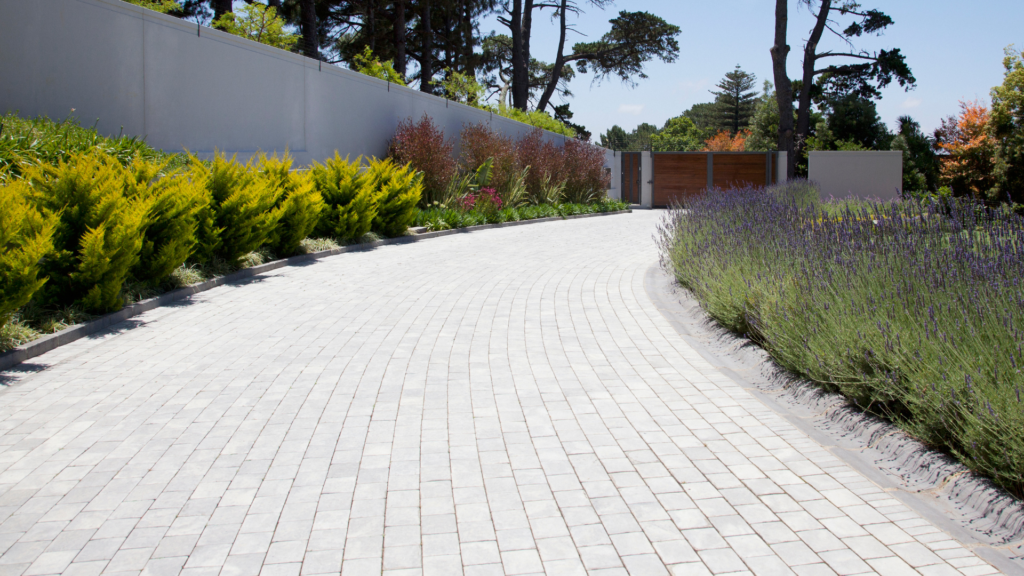 3. Tar and Chip Driveway
Tar and chip are a classic paving option for driveways and is quite common. These pavers are made of layers of gravel, asphalt, and loose stone. This material is used on roadways and in parking lots as it is extremely durable. Tar and chip driveways are cheaper than a full asphalt driveway. Moreover, they can easily be repaired and maintained. These driveways offer maximum traction and, therefore, prevent accidents in case of oil spills or rain.
4. Tiled Driveways
Tiled driveways are one of the most beautiful additions to the overall look of your house. They are made from extremely thick porcelain tiles that add a contemporary touch to the entrance of your house. These tiles are very easy to clean and don't need to be sealed. Porcelain tiles for driveways are good for withstanding the weather as they come with heat and frost-proof properties.
These are some of the most popular driveway ideas to boost your house's curb appeal. Putting plants near your driveway can also greatly enhance the overall look of your property and increase its value.
Looking for Driveway Services in Los Angeles?
If you're looking for driveway services in Los Angeles, get in touch now at (800) 764 -7130, and our team at EcoStar Remodeling & Construction will be right there to assist you. We can help you choose the perfect materials according to the weather conditions in your area. Got any ideas in mind? Show us a picture of your ideal driveway, and we'll bring it to life with our skills and artistry!
Frequently Asked Questions
Do limestone pavers need to be sealed?
Yes. It's critical you seal your limestone pavers to prolong their life. Limestone is a very porous stone, meaning it has a lot of tiny holes for moisture to enter. Sealing your limestone will repel moisture and increase its lifespan.
Can you tile a concrete driveway?
You can install tile over concrete, but we do not recommend it. As the concrete below ages, it can shift, which could damage the tile covering it. As soon as the concrete cracks, the tile will crack along with it.
How long does tar and chip last?
Tar and chip driveways can last approximately 10 years
How do I get grass into the joints of my pavers?
There are a couple of ways to get grass-jointed pavers. The first is to install the pavers alongside sod with cuts to accommodate the pavers. This method will provide you with instant gratification grass-jointed pavers offer. The other way involves installing the pavers and then planting the grass seeds in each cell. This is the best method since you'll get a healthier, stronger grass from deep root systems.