Kitchens are usually the primary focal point of a home, with many day-to-day activities taking place in or around this great space. Knowing this, you mustn't neglect your kitchen when remodeling your home. One of the most important decisions you'll have to make when getting your kitchen remodeled is choosing the right flooring. To make a choice easier for you, we have outlined the best kitchen flooring options you should consider.
The 3 Best Kitchen Flooring Options You Should Consider
Tile
Tiles are a popular choice for spaces that experience frequent water spills, such as bathrooms and kitchens. For kitchen flooring, ceramic, porcelain, and stone tiles are all popular varieties. Tiles can be found in a wide range of colors and sizes. Additionally, tiles can be installed in countless arrangements to suit almost any design motif.
An added benefit of tiles is that they are extremely durable and long-lasting. However, the grout may have to be resealed from time to time to avoid stains.
Porcelain and ceramic tiles are pretty close in appearance. Both tiles are incredibly strong, with ceramic tiles being even more durable than porcelain. While both are quite hard and damage-resistant, their quality can work to your disadvantage as any dishes dropped on them will likely break.
A downside of these tiles is that they are heavy, and therefore, it is recommended not to use them on a second-story floor.
Stone tile is more expensive than ceramic or porcelain tile, and it also requires more maintenance. Additionally, stone tiles can be as robust as other tile varieties, given that adequate care is provided. The porous surface of a stone tile also makes it less slippery. Travertine, marble, slate, and granite are some of the commonly used stone tiles used in flooring.
Reasons to Consider
A wide variety of patterns and colors are available.
Incredibly durable.
Tiles are waterproof.
Reasons to Avoid
Depending on what type is used, stone tiles can be slippery.
Requires maintenance.
Laminate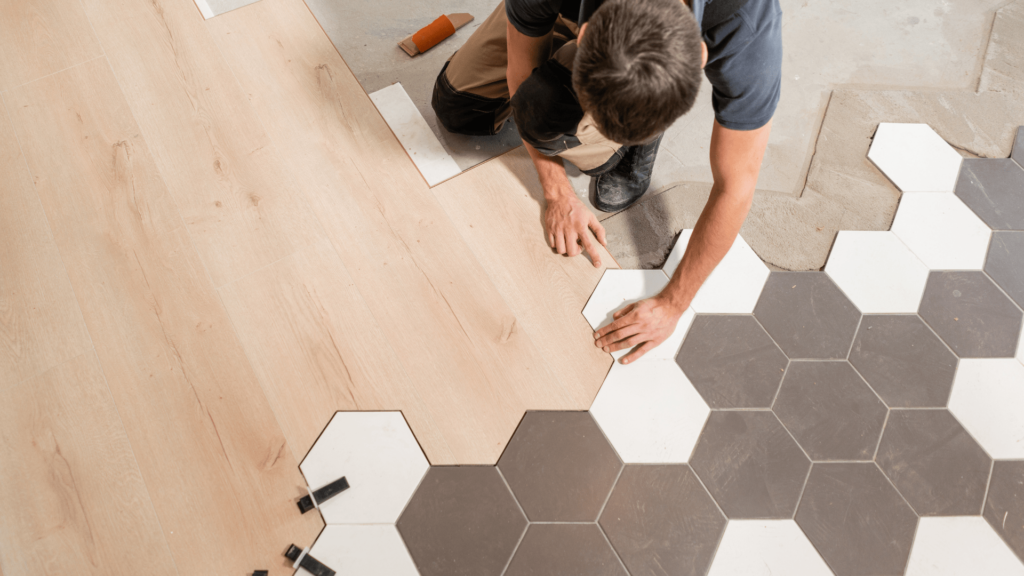 Laminate flooring has always been the go-to option for homeowners who are on a tight budget and cannot afford hardwood flooring. It can imitate the look of a hardwood floor with remarkable accuracy and for a lesser cost than vinyl. It is not usually waterproof, unlike vinyl, though waterproof versions are also available.
Reasons to Consider
Can mimic more expensive materials for a lesser cost.
Waterproof varieties are available.
Easy to install.
Reasons to Avoid
Not as durable as other options.
Some kinds are not waterproof.
Hardwood
Hardwood is a popular choice for kitchen flooring even today, despite being one of the more traditional options. Solid hardwood floors with the proper finish are water-resistant. However, they are not waterproof. As such, any spills should be soaked away and cleaned right away to avoid any damage.
In addition to looking great in your kitchen, hardwood floors provide you the option of refinishing them, in doing so, restoring their appearance to brand new condition. This can be particularly useful if you're planning a modest kitchen remodel and don't want to replace the entire floor to match the new look.
Hardwood flooring, like tile flooring, can be installed in a diverse range of patterns, allowing you to create exciting and artful floor designs. Reclaimed, repurposed, and environmentally sustainable hardwood options have also been introduced in the market and have garnered a lot of attention.
Reasons to Consider
A wide variety of patterns and colors are available.
Easy to update and maintain.
Reasons to Avoid
They are not waterproof.
Hardwood floors can be slippery.
Need a Professional Kitchen Remodeler
A kitchen remodel is only as good as the contractor you choose for the project. Therefore, to ensure a well-done and high-quality job, get in touch with EcoStar Remodeling & Construction. Our team of industry-trained contractors and designers allows us to work on any remodeling project, including your kitchen. So call now on (800) 764 -7130 and get your remodeling started!